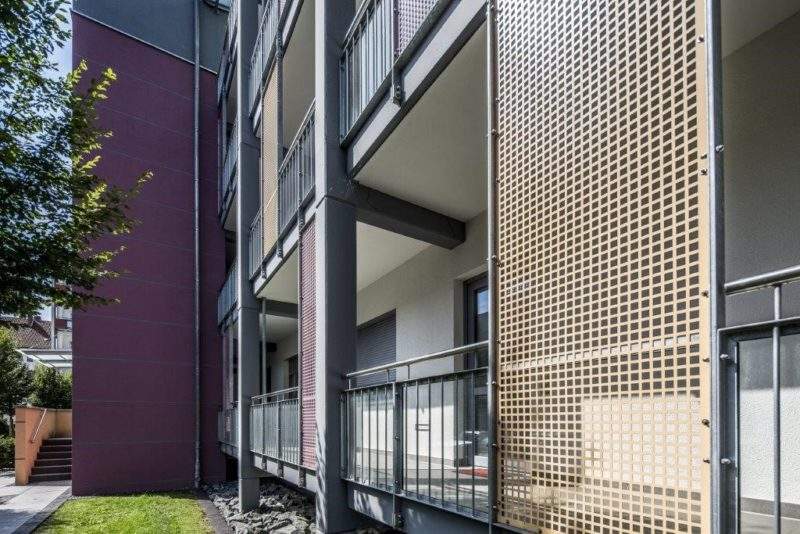 In Germany, the number of old buildings that require renovation is vast. Buildings constructed in the 1950s are in particular need of renovation. They neither correspond to the standards of the building's owners and tenants of today nor do they cater to the living requirements of an ageing society.
"Buildings' owners are often searching for an economic solution in order to maintain their stock", says architect Kerstin Pfeifer-Wernicke from Hanover.
"This is one reason why we are currently doing a lot of renovation. It already starts with the fact that a three-room apartment in the 1950s usually had an area of 62m². Today, this figure is 75m². Usually, the floor plans are also outdated. The Energy Saving Ordinance standards must naturally also be complied with. In those days  no one bothered insulating the façades."
The staircases, including lift, were deliberately positioned in front of the façade during the renovation of the Johannes Lau Hof residential complex in Hanover-Vahrenwald in order to fulfil the requirements relating to barrier-free living.
"This is how I came upon MEVACO perforated sheets," explains Kerstin Pfeifer-Wernicke.
"The staircases were supplemented with access balconies; the perforated sheets thus allowed us to inject some colour into the building to contrast the muted white of the façade and subdued grey of the windows. The incidenceof light was also important to us, as the front doors and windows to people's lives are located behind the perforated sheets. We used MEVACO perforated sheets C25 U35, thickness: 2mm, both pre-galvanised and aluminium and powder-coated after production in different colours. The expert installation was realised by the company Lams Stahlbau."
For Kerstin Pfeifer-Wernicke, the renovation of the Johannes Lau Hof residential complex was the first project in which she used MEVACO perforated sheets. It will probably, however, not be the last! Ultimately, the investment was also worthwhile for the building owner, the Wohnungsgenossenschaft Heimkehr eG. The new floor plan layout and modern façade design with MEVACO perforated sheets, as well as the maximum energy-efficient standard ensured that the overall 48 barrier-free apartments were quickly rented out.