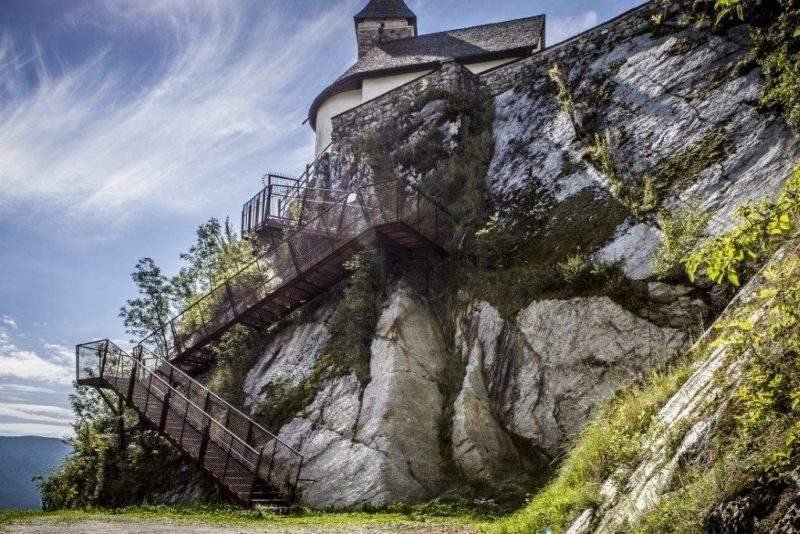 Close to the village of Gais in South Tyrol, you will find Burg Schlössl in Uttenheim, which has been hugging its rugged crag that falls away steeply on two sides with almost 1,000 years. It is one of over 800 castles in the region – it had, however, one distinguishing feature in comparison to all the other castles, as it could only be reached up to a few years ago after a 45-minute walk. This has now changed as the forge and metalworking shop Schwärzer from Gais designed and built an iron staircase, whose railings are made from MEVACO untreated steel crimped mesh (mesh width 52 x 52) with a wire thickness of 5mm.
Profiles made from steel WE 40 x 40, with a 9.6mm slot width, profile edge the crimped mesh.
"The staircase had, on the one hand, to be secured," says Priska Schwärzer.
"On the other hand, the customer wanted a light, almost floating design. After searching for a while, we found the material best suited for the welded step grates of the staircase with the MEVACO steel crimped mesh 52×52."
This was forged directly onto the bare rock.
"This was a challenge from a technical perspective," adds Priska Schwärzer.
"Our employees had to abseil down from above in order to mount the staircase on the bare rock."
The extensive experience of the company stood us in good stead in this connection. Our company was first mentioned in a document in 1648.
"The forge and metal working shop have now been in the family for 11 generations," adds Priska Schwärzer.
"We have been cooperating with MEVACO for a few years: Whether perforated sheets or crimped mesh, we can process everything.
"And MEVACO can fulfil all the wishes of our customers. It's a perfect match."