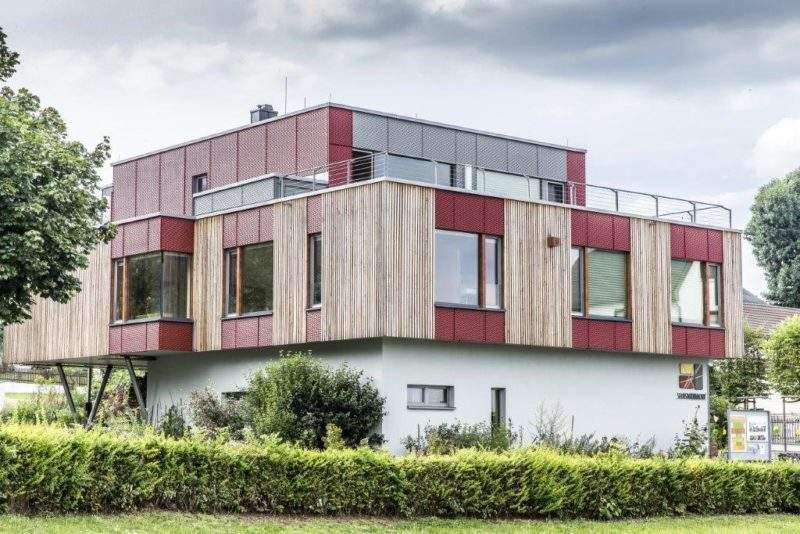 It started with the purchase of a shop, which was no longer in use, in the heart of Arnsgrün in the Vogtland uplands, which the architect Alfred Görstner then took as the basis to create a wonderful guest house with seminar rooms.
"We renovated the existing basic building and placed a reinforced-concrete floor on top of this, which projects 6m in the direction of the pond. It was on this that we placed the wood-frame construction according to environmental design principles. This, in turn, needed protective panelling."
This is where MEVACO expanded metal, rhomb 110 x 52 x 24, aluminium, came into play.
"I had previously used expanded metal and it was also the ideal material here," explains Alfred Görstner.
"On the one hand, because protective panelling has to be rear ventilated, expanded metal has the advantage that additional air movements occur in addition to the rear ventilation in the protective panelling area. The subsurface is thus aerated, which is a good thing from a constructional perspective. Also,water can not enter, as the inclined bridges face downwards.
"On the other hand, it has another advantage: Expanded metal becomes stable and torsionally rigid when provided with a lightweight frame. An experienced metalworking company should be commissioned as very precise work is required so that the frame and joint patterns fit together."
All options were also left open to the architect when it came to the colour design thanks to MEVACO expanded metal.
"We selected a red powder coating. The people from the village like the modernity and naturally also the seminar guests that come to Arnsgrün.
"The answer when people ask "where do I find the Arnsgrün guest house and seminar rooms" is always: The wooden building with the colourful expanded metal."