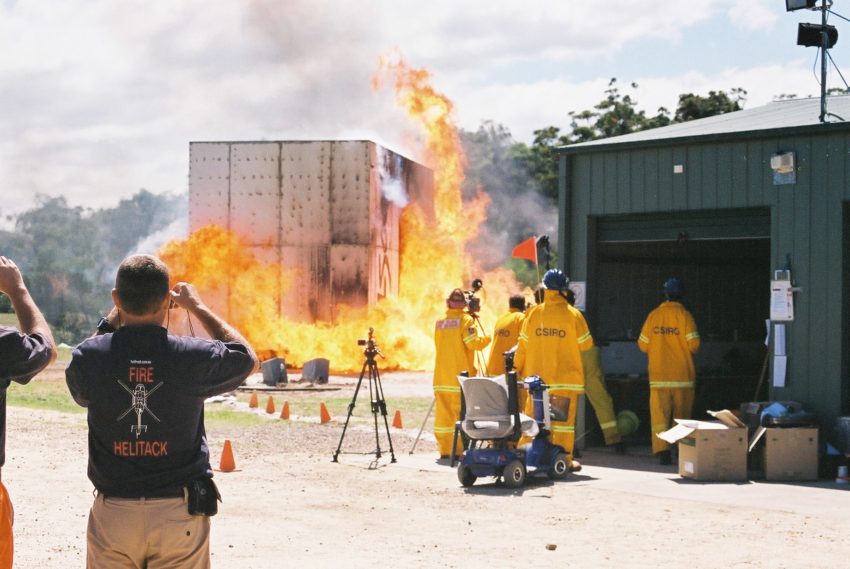 The Californian bushfire tragedy reminds Australians that our own fire season is imminent, with bushfires raging out of control in Queensland and other areas – no one wants to lose their home over the summer, but it can be hard sometimes to know what you can do to protect it!
The good news for homeowners, builders, architects and designers is that an Australian company has introduced a new fire-proof building product that will revolutionise the fire-proofing of Australian homes in all areas, and, without breaking the bank!
Unsuited construction
Most Australian homes, 70% in fact, are constructed of timber framing and brick veneer with paper lined plasterboard used on internal stud walls. This makes them a huge fire risk, in (BAL) Bushfire Attack Level areas.
Total fire protection
Imagine if you could cover your house in an inexpensive, lightweight but incredibly fire-resistant material that could be painted or rendered, or look like timber weatherboard.
Imagine if it could withstand temperatures of 1,000⁰C or higher for 2 hours or more without any real damage? The peace of mind that would give you would be enormous.
This amazing new product made from a special IP and magnesium sulphate composite called (MgSO4) is about to change how houses are externally clad and built, to withstand major Firestorms.
Scientific development with extra benefits
The product is a scientific composite, but apart from fireproofing it has some other significant benefits being extremely strong and will withstand high impacts. It cannot be consumed by termites, so protects all timber framing and remains inert in water or flooding and later can just be repainted.
Bacteria and mould cannot survive on (MgSO4) which means it is great for wet areas and family health and for those who are affected by allergies, as it has no VOC.
No home losses to bushfires
This lightweight (MgOS4) construction material is impervious to fire, it will ensure that your home will not burn down in a firestorm ****
The product is tested to three times the requirements of the highest BAL FZ Flame Zone requirement (30 minutes)
FCA products last 98 minutes on direct application of 1,000⁰C in a furnace test to the surface of the board (CSIRO) NATA.
High Insulation U and R Values
This FCA board has a good insulation value so that you can actually put your hand on the unexposed side of a 90mm cavity wall, with a single 10mm board each side, even if the temperature is being furnace heated to 1,000⁰C on the other side, as the product has a slow reactive change to temperature variations
This forms a protective envelope or insulated firebox, in walls, ceilings and floors which will not allow the internal temperature to reach combustion levels and can keep it below 25⁰C to 35⁰C inside for over an hour, while the external temperature is 1,000⁰C and the home is guaranteed to still be left standing after the firestorm passes. ****
Australian standards testing
To ensure that the product complied with Australian standards, several tests were undertaken by the NATA Accredited Fire testing labs of the CSIRO NSW under the most aggressive fire test conditions (AS/1530.4) and this amazing material achieved a 98-minute fire rating with a single 10mm-thick board. FRL 90/90/90
These tests carried out by the CSIRO proved that the cladding integrity could withstand 90 minutes at 1,000⁰C. The Bushfire requirement is only 30 minutes at a continuous 1,000⁰C.
Put simply, this means that this NEW 10mm thick product will withstand a full pass over Firestorm attack (the worst kind of bushfire) as tested in a real-time bushfire test scenario by the CSIRO.
Ember attack on this material just fails to gain ignition
The product is called FireCrunch FCA, an Internal/ external cladding, that is sold in standard building industry sizes, for walls, floors, ceilings and roofing.****
National co-ordinator Pete Jones says: "We have developed a product that can save people's homes if they are unlucky enough to be exposed to a major Bushfire. Our product makes fireproofing homes much more affordable and effective for homeowners than any other current option
Less expensive
Building fireproof homes in bushfire zones can be a crippling expense, under the new BAL regulations, even putting some people off building in these areas at all.
But now there is an alternative solution and FireCrunch is approximately 50% less *** per square metre than using masonry or brick walls and also supplies products with timber weatherboard and decking and flooring appearance, which meet the BAL fire code.
**** Note this requires that BAL tested fire doors and windows are also used
*** This reduction may be subject to slight variations but still very significant