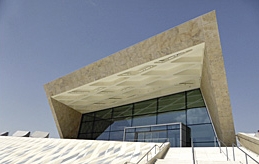 After three years of construction and installation, the completed Sheik Zayed Desert Learning Center (SZDLC) in Al Ain will soon be made accessible to the public. SZDLC is an exhibition about the desert ecosystem and the environmental impact of humanity, specifically addressed to the UAE.
SZDLC is particularly characterised by its architectural form. Apart from the 'monocoque' structure itself, only the doorways are quadratic in shape. The facades are designed in rhomboid patterns and held in a variety of colourings. In addition, the building will be operable practically on an 'energy autarchic' basis, which is unique for the region so far.
"SZDLC is particularly characterised by its architectural form."
This has been made possible by the application and combination of the best available, primarily Austrian domestic lighting and ventilation techniques. For example, the cooling airstream for the complex will be pre-cooled in underground pipes and then brought to the required roomspace temperature by means of solar cooling techniques. In conjunction with the 150kW generating plant from ertex solar, almost 95% of the required primary power will be produced directly within the complex or in the vicinity.
Green certification by the Pearl Building Rating System, with a 5 Estimada Pearls award, provides all participants with the certainty of having collaborated in a pioneering project, as this is the first building construction project in the Arab world to obtain this award.