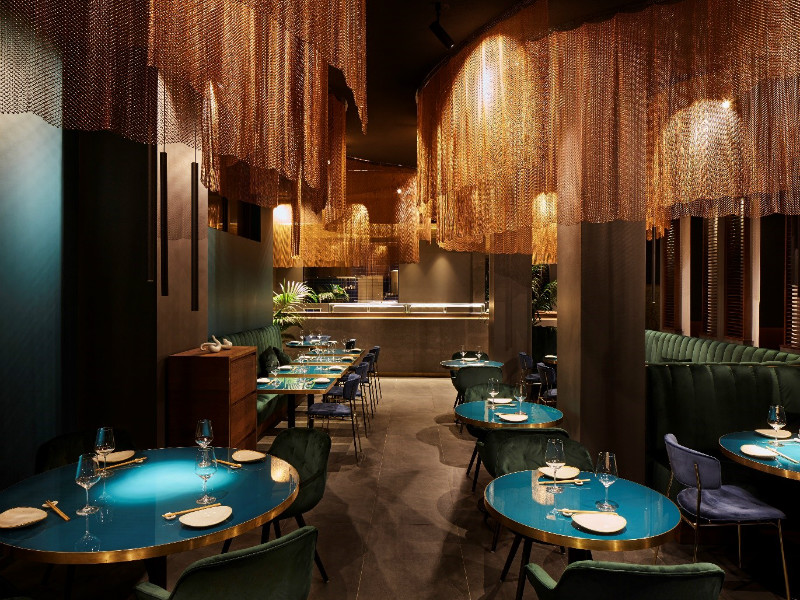 Architecture has been able to renew itself over the years to the point of becoming a true visual art form.
Emilgroup in-house research and development centre works every day as a strategic factor of innovation in design, aesthetic and performance. The focus is contemporary architecture that implies a multi-sensory and evocative experience linking the perception of one's body with the surrounding.
The Japanese restaurant Nishiki in Milan optimally represents this concept thanks to a careful renovation carried out by Milanese architecture firm Naòs Design. For the flooring, the choice is the timeless appeal of large porcelain stoneware pieces from the Stone Project Grey and Cornerstone Slate Black collections, both from Ergon Emilgroup brand. Ergon brand expresses an approach founded on 'minimal art', at the conceptual crossroad where engineering and design meet.
Chosen for its intrinsic characteristics, including high resistance to bending and abrasion, as well as low water absorption, Emilgroup porcelain stoneware is a material of excellent quality and value that becomes one of the most significant features of every project.
Stone Project collection by Ergon is the Emilgroup ceramic collection that cuts through the natural stone and produces a new material with a multiplicity of faces, conserving all its authentic variety. Stone Project by Ergon combines the double press-loading production method and Full HD digital graphics.
Cornestone collection by Ergon offers its own unique interpretation of rare and unusual stones from the world. Their unusual conformations characterise Cornerstone aesthetic and make it immediately recognisable, with specific identities and geological rarities.