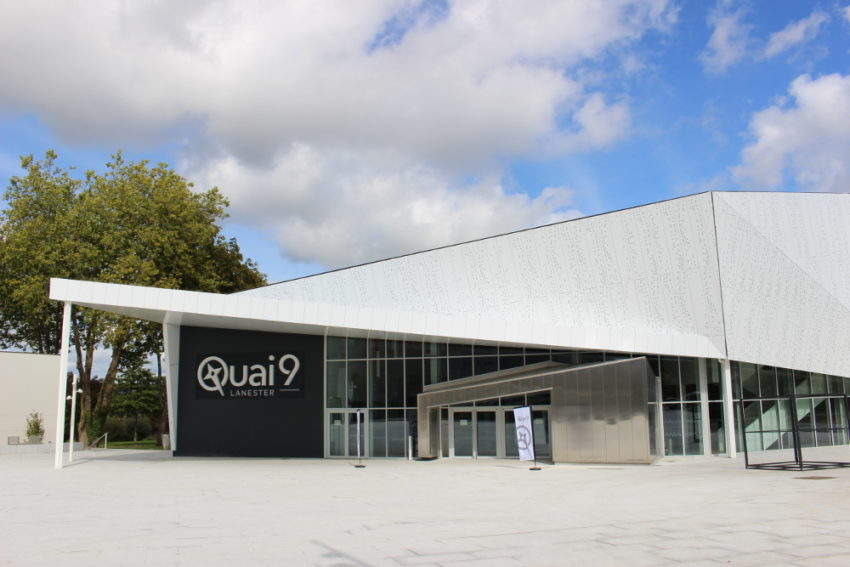 A city landmark of strong architectural character, Quai 9 is the new cultural centre of the municipality of Lanester, a city with a long history of maritime tradition situated at the heart of Lorient, France.
Project Data
5,500m² of perforated etalbond® façade
3,058m² of covered space
17.8m height
One 1,500-seat concert hall
Three exhibition halls
Construction duration: 2 years
Official inauguration: September 2017
Architect: MOG Architects
Contractor: AXIMA CONCEPT
Façade panel manufacturer: Elval Colour
From a first perspective, the many straight lines and triangular shapes, which meet to form the all-white, imposing shell of Quai 9, seem to draw futuristic design elements even evoking a starship straight out of a Star Wars movie.
However, after careful observation, one can see that the building actually projects a rather playful ambience in a manner similar to the creative assembly of the many triangular shapes that comprise its façade. Being the focal cultural, social and associative point of a city with distinct maritime heritage, the design does not fail to evoke ships with white sails at sea.
The predominant sail shape motif defines the 3D form of the façade, which in turn announces to the visitor the function, the openness, the invitation to a (cultural) journey, the spirit of the place.
This purposeful ambience is further enhanced by the thousands of perforated motifs that are found in flowing patterns throughout the facade. These, distil natural daylight inwards during the day and artificial light outwards during the night.
Finally, why 'Quai 9'? Because not only Quai means 'pier' but also because Lanester was founded in 1909.
Composed of many origami such as facets that decidedly blur the division between its 'horizontal' roof and 'vertical' walls, the all-white metallic shell of Quai 9 required rigorous study, planning and execution to transform the vision of its architect Cecille Moga (MOG Architects), into a successful reality.
The roof overlay and façade cladding are composed of a complex of 2,000 aluminium composite panels etalbond®, dimension 0.5m x 5m each, riveted on frameworks and on vertical concrete walls. The etalbond® composite covering covers the entire building. The composite panels are partially perforated in four different patterned modules and exclusively provide the decorative appearance of the building.
Designing Quai 9's outer shell presented several challenges regarding the durability of the façade. Its close proximity to saltwater (less than 1km), the multitude of perforations on its 2,000 panels and last but not least its large number of panels that are of horizontal instead of vertical orientation, thus being subject to relatively higher amounts of rain and UV radiation compared to vertical panels, all presented a unique problem to be solved.
Rising up to the challenge, Elval Colour came up with a customized PVDF4 coating built to last the 20-year duration of the requested warranty and beyond. The coils, which were used to produce the panels, were produced in ELVAL and coated in Elval Colour's own coating lines with an especially thick white primer, white PVDF base coat and PVDF clear topcoat to maximize corrosion and UV resistance. All panels were also coated with a white primer on the backside, as this is visible from the inside of the façade. Finally, all panel edges were specially treated with bond protecting agents on site. Close collaboration with AXIMA CONCEPT and subsequent technical audits during construction by Elval Colour engineers verified that fabrication and installation of the façade were done according to specification, what finally ensures its aesthetic and structural integrity for many years to come.
Elval Colour is a leading European coated aluminium manufacturer, established in 1977. The company offers aluminium composite panels of the highest quality, aluminium produced in ELVAL's rolling mills and coated with its own coating lines. In 2016, Elval Colour introduced its new line of etalbond® A2 with an incombustible core.