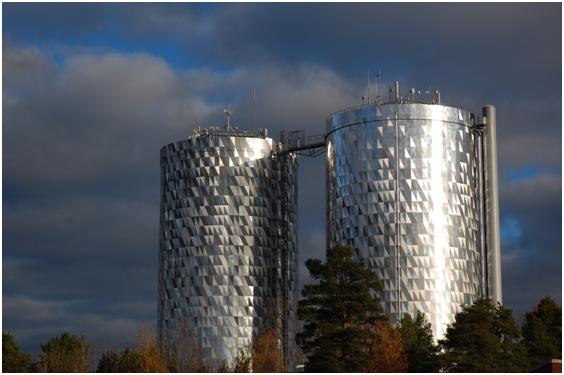 Transforming the 'ugly-duckling' into a beautiful swan: In other words, making the old water towers in Handen to be a landmark. For this very challenging project, Elval Colour supplied 5,000m² of etalbond® composite panels.
etalbond® PE composite panels, were used exclusively for these iconic water towers. The use of etalbond® composite panels (colour shades, forming), transformed these, previously 'obscure' towers into eye-catching buildings.
By using the brushed-smoke silver colours, the HMXW architects formed triangles and used the mirror feature to produce varying results, depending on how the light and the surrounding area's colours are reflected on them.
The new shell of etalbond® aluminium panels, takes advantage of the way the light is reflected in different surfaces. The same material may provide different aesthetic results, depending on the finishing of the surface (mirror-polished, brushed in different directions or even matter).
The land and the sky, give an extraordinary look to the towers, thanks to the changing colours between summer and winter, and between day and night. One tower has more reflective surfaces at the top and creates a mirror effect of the sky, while the second one, reflects mainly the vegetation at the bottom. This way, the two towers seem to be of different nature, although they are made of the same material.
For more information, contact Elval Colour.