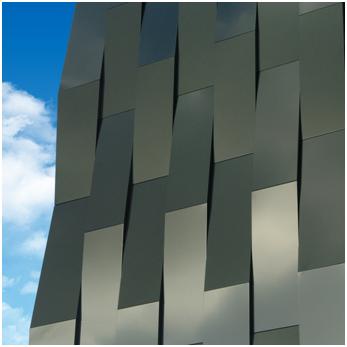 Elval Colour has announced that it will launch a new generation of advanced composite panels in 2016, consisting of two aluminium cover sheets and a mineral-filled core.
Dubbed etalbond® A2, Elval Colour is one of only three companies that manufactures this new incombustible panel, which is designed to be low weight yet highly rigid and perfectly flat. At the same time, etalbond® A2 retains the formability of Elval Colour's existing etalbond® products, which are available in a range of vivid colours to add an elegant facade to buildings and constructions of all kinds.
Attractive and flexible, etalbond® is the appropriate cladding solution for interior and exterior surfaces in new constructions and renovations. The material is rigid, light, and durable and has good insulating properties, resulting in energy-efficient buildings. Furthermore, it is easily installed and formed into a variety of shapes.
etalbond® A2's flexibility is due to its innovative core, which is incombustible but also is less brittle than rival composite panels. etalbond® A2 can therefore be formed and curved in many different shapes and will be available in the following sizes:
Width: 1,000mm to 2,000mm
Thickness: 2mm up to 6mm
Lengths: Standard 6m, customisable upon customer request
Due to its mineral-filled core etalbond® A2 has been tested according to EN 13501-1 and has received a classification of A2 S1 do. This makes the new product incombustible and ideal for high rise buildings, highly trafficked buildings such as shopping malls, airports and train stations, and for high-sensitivity areas such as hospitals, elderly care centres, schools, kindergartens, and nurseries.
A leader in product quality and service, Elval Colour offers a complete range of products and solutions for building envelope applications, including perforated and corrugated sheets. From orofe® coated aluminium coils for roofing, YDORAL® rain gutters, flashings, roller shutter applications to ELVAL ENFTM solid façade cladding and etalbond® aluminium composite panels.
etalbond® A2 will be available in 2016.