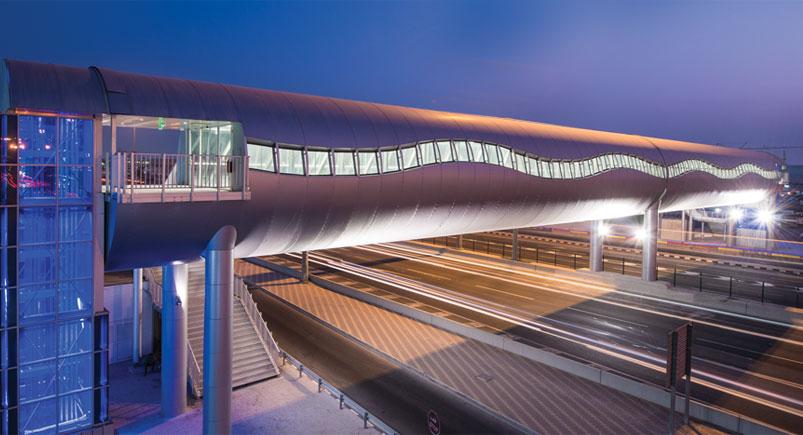 Elval Colour has supplied coated aluminium composite panels for new bridge projects in Doha, Qatar.
The Public Works Authority (PWA) intends to introduce state-of-the-art pedestrian bridges in different parts of Doha.
This one-of-a-kind bridge type will guarantee safe, easy and convenient pedestrian access to a variety of destinations, including schools, shopping centres and public transport interchanges. The safety parameter is of the essence especially along high-speed traffic highways like Salwa Road.
A special project of that kind is the prototype pedestrian bridge over the East Industrial Area road. It is the first air-conditioned pedestrian bridge, which has been welcomed by a large number of residents due to the high temperatures.
This is the first out of several similar bridges that have already been announced and are aiming to transform Doha into a convenient city which will attract more visitors each year.
This iconic bridge is made exclusively with extruded aluminium and the shell consists of coated etalbond®FR composite panels. Its weight corresponds to approximately one third of the weight of a conventional steel bridge. Thanks to its mineral core, the panels meet the stricter requirements of international fire regulations.
Elval Colour has supplied to this first pilot pedestrian bridge more than 2,000m² etalbond®FR panels, length up to 9,900mm, two sides painted with PVDF finish | Elval Colour finish code 102 Silver.
etalbond® has been certified to meet local regulations and requirements, including a certificate from Qatar Civil Defense as well as the approval from Ashghal (PWA) which is the Public works authority of Qatar. Ashghal is responsible for the planning, design, procurement, construction, delivery, and asset management of all infrastructure projects and public buildings in Qatar.
This remarkable project was selected to be designed and built with the etalbond®FR composite. The panels cut, curved and routed to formations and shapes that are beyond expectations when compared with traditional construction materials such as steel.
Doha, capital city of Qatar, is one of the few cities that are enjoying dynamic growth around the world. The ruling family of the state has decided to establish Doha as the centre of the Gulf region and several inspired plans and arrangements have been adopted towards that direction. The FIFA World Cup 2022 is one of the most notable ones.
In parallel, the growing corporate and commercial activity is changing the city's prospect with a wide range of construction projects that are under development.
Main contractor: Kamaridis Steel LLC, architect name: S Kamaridis Steel S.A, ORAZIO PUGLISI, project manager: Kamaridis Steel LLC, Protonotarios Dimitris