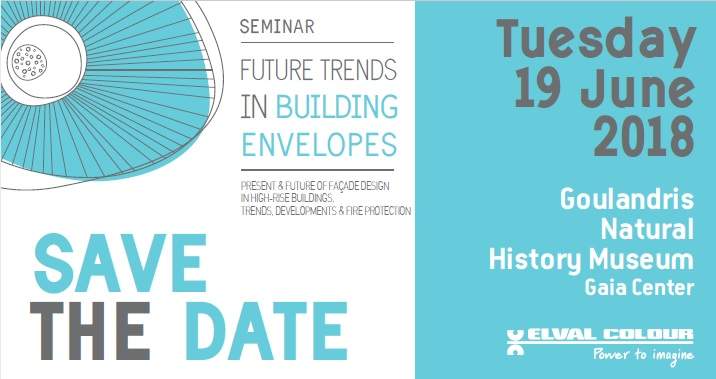 Following the successful 'Future Trends in Building Envelopes' conference , Elval Colour organises a seminar titled 'Present and Future in the Design of Facades of High-Occupancy Buildings'.
The event will cover international practices in fire protection of building and material certifications, as well as the Grenfell Tower case.
The seminar will take place on Tuesday, June 19, from 09.30 to 15.30, at Aggelos Goulandris amphitheater, Goulandris Natural History Museum – GAIA CENTER (Levidou 13 & Othonos 100, Kifissia).
Objectives:
The awareness of the Greek community of architects, engineers and building contractors on issues related to the contemporary design of facades in high occupancy buildings
Present the best practices of international design and construction in relation to the fire protection of buildings
Explore the possibilities and the alternatives of the use of the materials and their role in building fire safety
Program
09.30 – 10.30 Entry – Records
10.30 – 10.45 Works Start
10.45 – 11.00 Dr George Iliadis, member of the Board of Directors of Hellenic Institute for the Fire Protection of Structures
11.00 – 11.30 Mathieu Meur, Director, DP Architects, Singapore
11.30 – 12.00 David Campbell, Regional Director of Fire Compliance, Thomas Bell-Wright International Consultants, Dubai
12.00 – 12.30 Coffee Break
12.30 – 13.00 Adrian Brown, Fire Service Advisor, Risk Management and Station Affairs, Dubai Civil Defense
13.00 – 13.30 Angelos Zografos, Technical Sales Engineer, Elval Colour
George Manos, Certifications Engineer & CTS, Elval Colour
13.30 – 14.00 Discussion – Closing of Works
14.00 – 15.30 Lunch
The seminar is addressed to:
Architects, project designers, developers, engineers, building contractors, university students, and business representatives from a range of sectors.