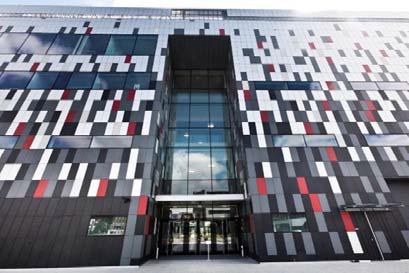 Dow Corning® PanelFix is a complete system of fixation for elastic bonding of ventilated façade panels. Comprising Dow Corning® 896 PanelFix Silicone Adhesive, Dow Corning® PanelFix Tape and Dow Corning Primers and Cleaners, it is currently the only silicone-based adhesive system assessed and awarded technical approval by the British Board of Agrément (BBA) for bonding rainscreen cladding panels both in factory and on-site.
Applicators will appreciate its time saving features including easy surface preparation and extrusion of the adhesive, fast handling, excellent compression resistance and instant green strength.
This newly certified system also provides interesting advantages for architects, building owners and engineers by expanding building cladding possibilities by enabling the selection of lower weight, less expensive cladding options which are free from the thickness requirements typically needing mechanical fixation.
With no need for metal fasteners between the panel and the supporting structure, the bonding is not visible which improves the aesthetic appearance of the facade. Thanks to the inherent properties of silicone technology, it has proven outstanding UV, temperature stability and fire resistant properties which provide long-term safety and high durability.
For added confidence and peace of mind, Dow Corning's unique, world leading Quality Bond™ programme has been extended to include panel bonding applications. Quality Bond brings together state-of-the-art products, standards of best practice in quality control, quality assurance and product application with silicone fabricators and applicators. Member companies must undertake technical and application training and pass regular audits to be eligible for annual Quality Bond certification.
Quality Bond lifts quality to the highest levels and enables fabricators to bond with confidence.
For further information, please contact Dow Corning.