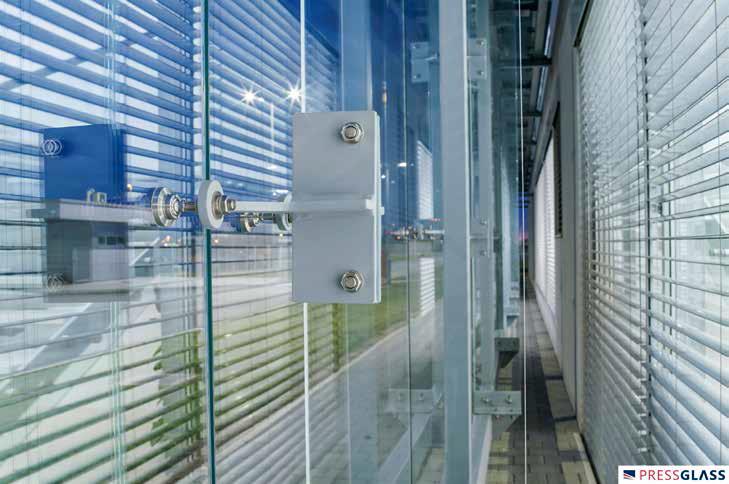 A modern, dynamic and globally active company, Press Glass specialises in glass processing and in the production of insulating glass. 2015 saw their first expansion of production outside Poland with the opening of a new, purpose-built production facility in Croatia, where inter alia glazed units and tempered glass is now manufactured.
This state-of-the-art facility features an expansive, point-fixed glass façade which has been secured using Dow Corning Transparent Structural Silicone Adhesive (TSSA), for improved transparency and enhanced aesthetics.
Press Glass were seeking to create an impressive glazed façade on the front elevation and main entrance of their new facility, which will act as a showpiece for quality of their product whilst embracing innovative components to further improve overall functionality and aesthetics.
Following a long and successful collaboration with Dow Corning and their Quality Bond™ Technical Distributor Proventuss Polska, Press Glass were introduced to a new, crystal clear bonding solution which contributes towards a smooth surface appearance of a double skin façade without any visible supporting elements for fixation which penetrate the glass. This solution helps to improve natural daylight opening and increase energy efficiency of the building.
Proventuss played a key role in presenting TSSA, a new system for point fixation, to members of the project team including the engineers, façade consultant and the investor and provided expert technical support including drawings, calculations and site visits, to substantiate its specification and performance.
The single glazed facade was secured using Sadev architectural glass components for the point-fixing. Over 2,000 were bonded by Press Glass to the tempered or laminated glass panes, also manufactured in their factories, with Dow Corning Transparent Structural Silicone Adhesive film, as an alternative to using the traditional method of drilling into the glass for insertion of bolt fixings.
This type of fixation enables a sleek aesthetic and improved transparency as the glass panes are not breached, thus retaining the integrity of the glass. It also allowed the glass thickness to be reduced from 25.4 mm to 17.52 mm permitting the weight and cost of the glass to be reduced. TSSA was also used for bonding the point-fixing bolts on the glass balustrades.
Marcin Szczepański, project manager, PRESS GLASS commented: 'We are keen to investigate all types of technological advantage for glass production and construction. In this case, Press Glass were very impressed by the durability benefits gained by the use of Dow Corning TSSA, as well as its crystal clear appearance which enhances the appearance of the overall structure'.
Tomasz Polaczek, chairman, PRESS GLASS also commented: "By bonding over 2,000 elements of the point-fixing architectural glass system to the tempered or laminated glass, also manufactured in our factories, we confirmed our technical capability and competence in the scope of implementing hi-tech bonding methods in high volume production.
"Due to this, the façade of our factory in Varaždin has become one of our important reference projects, promoting the newest offer in our portfolio – glass panes with bonded bolt fixing systems – impressive and free from any visible fixing elements with an enhanced appearance."
Krzysztof Nadzieja, business development manager for Proventuss Polska explained: "Collaboration with the project team enabled smarter building materials and methods to be discussed and agreed, which is particularly important when new technology is proposed. This is the first TSSA project constructed in Croatia and a notable project reference for this new technology."
It is anticipated that the presence of Press Glass in Croatia will support the development of enterprises in the region involved in window joinery and glass façade product and other structures used in construction. For enhanced design freedom and aesthetics, Dow Corning Transparent Structural Silicone Adhesive provides a next generation bonding option for the creation of crystal clear, point fixed glass facades. Outperforming current technologies, this innovative structural adhesive helps maximise thermal performance whilst permitting high transparency.
With approximately four times higher strength than conventional structural silicones, TSSA provides unique design possibilities for glass construction and glass attachment in external point-fixed glazing. Also available, TSSL is a transparent structural silicone laminate designed specifically for interior structural glass connections and area lamination used in modern glass partitions, glass stairs, glass railings and balustrades, and decorative glass.