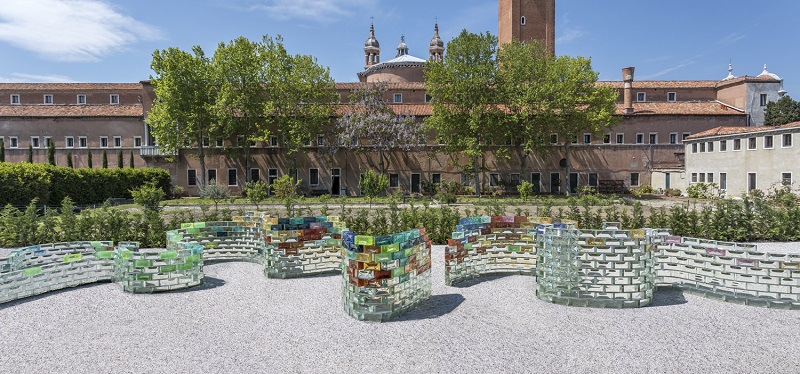 A monumental new glass sculpture titled Qwalala by American artist Pae White made its debut at 11am on 11th May 2017 at LE STANZE DEL VETRO, Fondazione Giorgio Cini, on the Island of San Giorgio Maggiore, coinciding with the 57th International Art Exhibition – La Biennale di Venezia.
It will remain on display until November 2018. The sculpture was supported by Dow High Performance Building and enabled by a proven silicone structural glazing sealant and technical support from Dow Corning Europe.
Qwalala is a 75m-long, 2.4m-high serpentine wall created from thousands of one-of-a-kind, hand-cast glass bricks. Referencing the meandering flow of the Gualala River in Northern California, US, the wall's ever-shifting play of light recalls the way the color and temperature of the water changes minute by minute as it flows to the sea. The structure is supported by a steel base and held together entirely by Dow Corning® 993 Structural Glazing Sealant.
According to LE STANZE DEL VETRO, the museum that commissioned the sculpture: "The wall explores the limits of glass as a building material and bears witness to Pae White's interest in combining common materials with cutting-edge technology, traditional craftsmanship with advanced engineering, and employing industrial manufacturing to challenge the limits of each of these."
Creating a self-supporting structure with bricks weighing 23kg is not only a work of art; it also is a feat of engineering. German engineering firm schlaich bergermann partner carefully calculated the geometry and stresses of the sculpture and researched multiple options for glues and sealants. Dow Corning 993 Structural Glazing Sealant was identified as the product that best fits the specific project requirements.
"Dow Corning 993 Structural Glazing Sealant's white color, mechanical strength and cure speed made it the ideal sealing and bonding choice to help Pae White achieve her artistic vision," said Davide Bianchi, Dow High Performance Building Solutions business developer for Italy.
Dow Corning 993 Structural Glazing Sealant is a two-part silicone sealant with proven structural capabilities. It offers excellent adhesion to a wide range of substrates, including coated, enameled and reflective glasses; anodized and polyester paint-coated aluminum; and stainless steel. The sealant meets the requirements of European Technical Approval Guideline 002 (ETAG 002-1), a very demanding standard for silicone structural glazing sealants. Additionally, recent projected durability testing by the Federal Institute for Materials Research and Testing (BAM) in Germany predicts a potential service life of 50 years.
In addition to supplying the sealant for the project, Dow provided product selection advice, technical support and application calculations. The Dow team also recommended a contractor with the equipment and experience required to do the on-site bonding.
"Dow Corning 993 Structural Glazing sealant is based on more than 50 years of silicone structural glazing science and has a long history of proven performance worldwide," Bianchi added.
"How fitting that it should be showcased in conjunction with an international event celebrating more than a century of art innovation."