Ceno Tec is one of the leading enterprises with a long tradition in the field of textile construction. Founded in 1885, Ceno Tec nowadays combine traditional values with most up-to-date know-how. The members of the Ceno Tec team rank among the innovative membrane construction specialists in the world and – in the recent 40 years – besides numerous standardised textile buildings have designed and constructed more than 1,000 particularly spectacular membrane projects including:
Stadium and stand roofing, eg: Volkswagen Arena Wolfsburg, Formula 1 Istanbul
Textile roofing for airports and railway stations, eg: Munich Airport Centre, main line railway station Leipzig
Membrane for big leisure facilities, e.g. the Tropical Island (former cargo lifter hall)
We have also designed textile constructions for shopping malls, swimming pools, atriums, facade coverings, interior design, and exhibition stands.
High-tech structural textiles
For all kinds of applications, Ceno Tec will offer the optimal material and best technical performance to you. Because of their high tensile strength, coated fabrics make wide spanned constructions possible which do not require any supports. Available are polyester fabrics with a plastic coating or glass fabrics with a PTFE (Teflon®) or silicone coating.
Because of their high material flexibility, exclusively plastic coated polyester fabrics offer themselves for variable or temporary constructions. The expensive glass fabrics with PTFE (Teflon®) coating mainly captivate by their longevity, their non-flammability and by the fact that they are practically self-cleaning. Furthermore available for special constructions are PTFE fabrics with a flexible fluoropolymeric coating.
The 10,000 sq. m. large forum is roofed by an extraordinary glass-membrane construction. Each of the translucent, diamond-shaped membrane fields of Teflon-coated glass-fibre membrane spans a free width of 90 metres.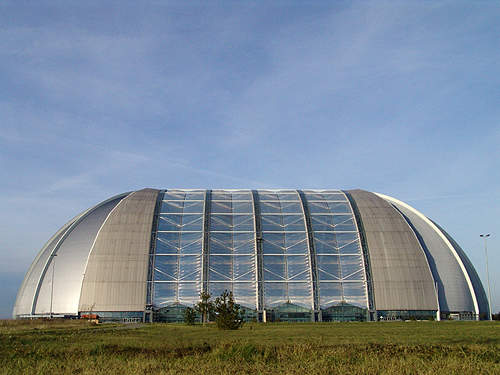 In order to supply the tropical plant life in Tropical Island with the required lighting using natural daylight / UV light, the transparent 20,000 sq.m roof of ETFE was built.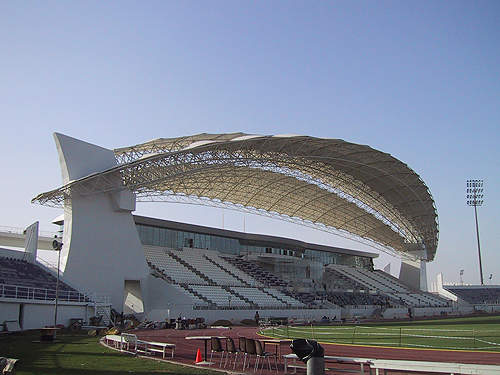 A membrane structure of PTFE coated glass fibre fabric stretches over the grandstand of the Zayed Stadions in Al Ain - each of the 51 membrane fields differing in size and shape.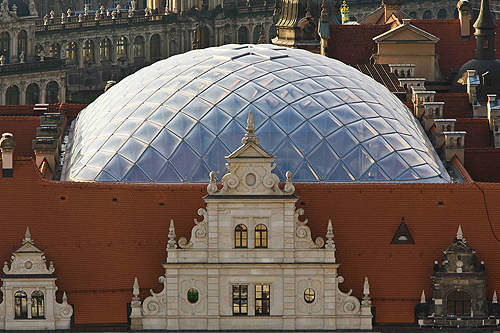 The transparent membrane cushion roof consists of a load-bearing lattice shell with ETFE-membrane cushions fixed into the lattice structure.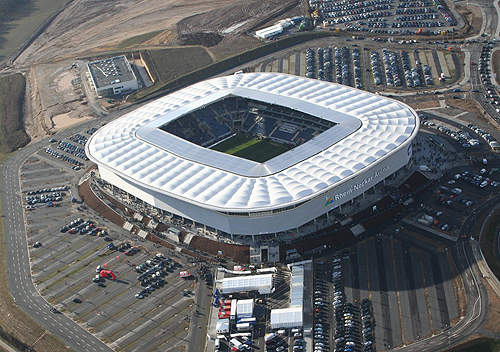 A stand roofing system made of technical textiles offers protection for more than 30,000 spectators. A total area of 19,500 sq. m will be covered.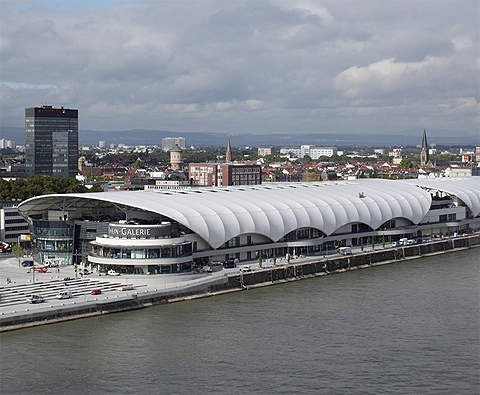 A translucent membrane roof construction spanning the complete shopping mall 'Rhein-Galerie' will bestow a unique and unmistakable character upon the spectacular architecture.
ETFE films are nearly crystal clear fluoropolymeric films doing without any reinforcing fabric. For this reason, they are generally applied as air-supported cushion constructions comprising of two or more layers. Because of their high light and UV transmission, ETFE films are used to realise architecturally interesting room structures flooded with light. Fields of application above all are those projects which have traditionally been using glass surfaces, such as atriums, courtyards, skylights, swimming pools, tropical greenhouses, etc.
The materials used have to undergo and pass strictest internal and external quality controls. Like all fittings and connectors, the load bearing structures are made of galvanised steel and, if so requested by our customers, also available in a colour-coated design. 
Textile membrane structures
Textile membranes undergo particular construction principles: Similar to a rope, they are exclusively to be subjected to tensile stress. Resistant, quasi "hard" surfaces are only generated when an opposing, biaxial curvature is created and the surface is stabilised by applying a material-defined pre-load. 
Ceno Tec employ an experienced team of architects, engineers and project managers and offer a complete service meeting the demands on all levels of production:
Statics
Construction planning
Cut to size 
Processing the membrane templates
Construction management and installation
Maintenance and services
Plastic-coated structural fabrics
CENO TEC's strengths include the decades of experience, the enormous flexibility in planning and performance as well as the company's strong international alliances: Since 1996, CENO TEC have been an independent subsidiary of the worldwide operating SATTLER AG – manufacturers and processors of high-quality, plastic coated fabrics themselves. 
The members of the CENO TEC team are also the right persons to be con-tacted as far as statics, steel construction and rope construction are concerned since the company has long lasting, well established contacts with selected, experienced partner companies.
High-quality plastic-coated polyester and PTFE glass fabrics
The Ceno plant in Greven/Germany is familiar with and adjusted to the high-quality processing of all materials (from plastic coated polyester fabrics and PTFE glass fabrics, silicone glass to ETFE films). On a production area of about 8,400 square metres, Ceno Tec are in a position to produce in 3 shifts – de-pending on the demand. A qualified and experienced team of approx. 120 employees as well as state-of-the-art manufacturing facilities guarantee a constantly high quality level of the Ceno products.
The textile membranes are completely pre-fabricated in our plant. The fabric is precisely cut to size on the basis of computer-calculated patterns, the lateral rope pockets are made, the seams are closed by special welding procedures to make them particularly durable and tight.
Load bearing structures and all their accessories are pre-fabricated as well and this is one of the reasons for our achieving such short assembly times with regard to textile constructions.
Since 2004, Ceno Tec have been certified in accordance with the new ISO 9001:2000 and ISO 4001:2004 in all areas.