Ideal for marquees, bars, restaurants, hotels and nightclubs, the Sound Ceiling is a revolutionary sound system that solves noise disturbance problems faced by entertainment venues while still delivering quality high-level sound.
The Sound Ceiling is a modular-based speaker system installed in or suspended from the ceiling above the dance floor, or any required area, that directs sound straight down to the audience where it is needed. With the Sound Ceiling, sound pressure drop-off can be heard as soon as you step outside the column of sound created, not only lending itself to the reduction of noise escaping the site but allowing zoning of areas within any venue.
With a guaranteed 10db reduction only 1-2m from the dance floor, the Sound Ceiling allows you to increase volume, improve sound quality and abolish complaints by providing high-quality sound in specific areas whilst leaving adjacent areas free from excessive noise. By using the Sound Ceiling you are able to confine the area of high-level sound and reduce the volume heard only a few metres away by up to 50%.
Sound system for bars, nightclubs, restaurants, hotels and marquees
Imagine dancing underneath thousands of pumping speakers while only metres away people are dining, working or holding normal conversations with only ambient background noise.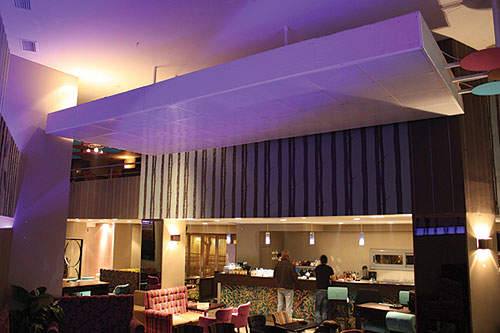 A Sound Ceiling installed at Bar Kelona, Athens, Greece.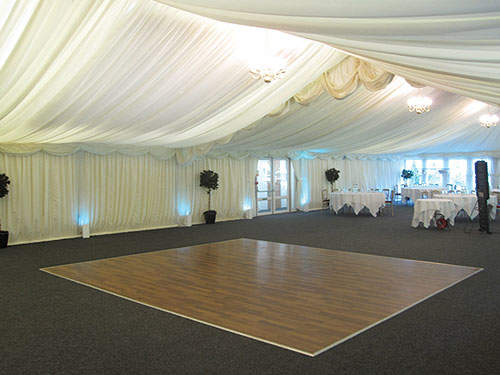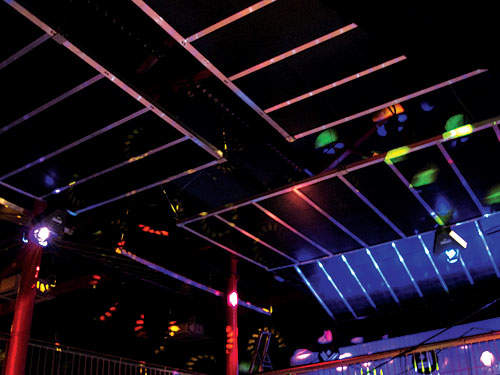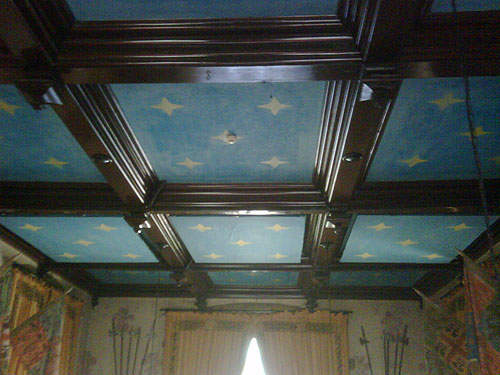 A Sound Ceiling installed within the marquee lining at Handpicked Hotels' New Hall Hotel and Spa, Sutton Coldfield, UK.
Through plane wave technology and directional control, the Sound Ceiling reduces unwanted sound distribution, confining sound within specific areas. In numerous entertainment venues, Sound Ceilings UK has been able to reduce sound levels at the bar to approximately 84db (depending on the size of the room). In most cases, by the time the sound has reached the foyer of the venue, it can be barely heard. This is in dramatic contrast to a traditional sound system, which pumps sound towards the bar and into the foyer at levels of approximately 96db or greater.
When installing a sound ceiling, the size of the venue and dance floor is calculated to determine the number of modules required over the given area. The sound ceiling is invisible by virtue of the fact that it is positioned flush with the ceiling line and can be camouflaged with the colour of the ceiling. It offers the dancing guests high-quality, powerful sound, while allowing for those outside the dance area to have a normal conversation without shouting, and provides employees with an excellent noise at work atmosphere.
Suitable for both live and reproduced music, the Sound Ceiling guarantees a 10db noise reduction outside the venue and has enabled operators to extend operating hours and profits by meeting council noise regulations whilst improving sound quality inside the venue.
Sound system for indoor and outdoor entertainment venues
Ideal for indoor and outdoor entertainment venues, the Sound Ceiling is an aesthetically pleasing sound solution which can be customised to suit any venue. A look at the website will show you examples of previous installations in numerous bars, nightclubs, marquees and even listed stately homes.
Sound speakers, DSP, zone control and amplifiers
Sound Ceilings UK also offers a full range of standard speakers, DSP, zone control and amplifiers, which integrated with plasma screens, projection systems and digital signage, provides a complete solution for any venue.
Sound Ceilings UK specialises in:
Sound system design
Acoustic noise and structure born sound cancellation solutions
Sound installation and commissioning
Overcoming noise abatement notices, noise complaints and licensing restrictions
Since introducing the Sound Ceiling, Sound Ceilings UK has worked with acoustic engineers, designers, architects, environmental health officers, publicans and nightclub proprietors to successfully resolve their noise pollution problems with resounding success.
With the use of this revolutionary sound system, Sound Ceilings UK has been able to overcome noise abatement notices, noise complaints and licensing restrictions relating to sound. The sound ceiling offers an alternative to expensive soundproofing methods with a guaranteed 10dB reduction (15dB for marquees) in sound escaping any venue, allowing entertainment to prosper and leaving surrounding tenants unaffected.
Compared to a conventional sound system where there is very little control over the distribution of sound, through plane wave technology and directional control, the sound ceiling clearly reduces unwanted sound distribution offering the hospitality and entertainment industries practical and sustainable environmental solutions.
Sound Ceilings UK has provided sound solutions for the following clients that have experienced problems with local councils and EHO:
Ramada hotels
Best Western hotels
Thistle hotels
Handpicked hotels
Jarvis hotels,
Quality hotels
Marriot hotels
Sound Ceilings UK also specialises in all aspects of commercial installations for restaurants, retail stores, construction firms, golf clubs, pubs, night clubs, conference centres, country estates and boutique hotels.