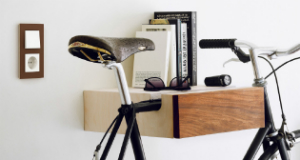 Intelligent building technology can ensure convenience, security, and value, and also look extremely attractive. Gira's products have been proving this for many years and have won international design awards again and again.
The product innovations Gira Sensotec, Gira Sensotec LED, and the new switch range Gira Esprit Linoleum-Plywood are the latest examples of how Gira intertwines function and form. It comes as no surprise that Gira is presenting its products and solutions at design events like the 100% Design trade fair in London.
Motion Detector, Orientation Light and Contactless Switch – Gira Sensotec and Gira Sensotec LED
The Gira Sensotec and the Gira Sensotec LED provide more security in the dark. They turn the light on automatically when they detect motion in the long range. Whereas the Gira Sensotec switches on the room lighting in dimmed mode, the Gira Sensotec LED has an integrated orientation light for this purpose. If necessary the room light can be switched on without contact by a motion in the close-up detection range of approx 5cm.
Clear form and natural materials – Gira Esprit Linoleum-Plywood
Gira Esprit Linoleum-Plywood is the first switch range to unite two natural materials which complement each other perfectly. Both are sourced from renewable raw materials, are robust, have a variety of uses, and have always been popular among architects and designers. Frames in six attractive colours offer freedom for diverse combination options in interior design. All the details about design, materials and functions can be found on the Gira website.
We Take Responsibility for the Future
Shaping the future means assuming responsibility today. The key to this lies in practising sustainability. We confront this duty together as a company. We have a lot to be proud of, but we still aim to achieve more. A sustainable corporate approach constantly requires new challenges. The Gira sustainability portal provides an overview of our successes, projects, commitment, and plans.
100% Design from 23-26 September 2015 – Gira Underscores its Extensive Design Expertise at a London Trade Fair
The design trade fair 100% Design will be held from 23-26 September 2015 at the Olympia London Exhibition Centre. Founded in 1995 and welcoming approximately 30,000 visitors, it is now the largest and oldest event for contemporary design in the United Kingdom. Gira will be represented at the fair with various products which set new trends both in terms of technology and design. Gira employees will be pleased to invite trade visitors and design fans to partake in interesting conversations at Stand E 479.
The MacGyver for the Smart House
A completely networked house promises a high level of convenience, security and many energy-saving options. But integrating all the various components sensibly with each other has proven to be an acquired skill. System Integrators support architects and builders in their construction projects. Like Klaus Geyer from Eckental, for example, who was responsible for integrating the building technology in a villa in Thüringen.