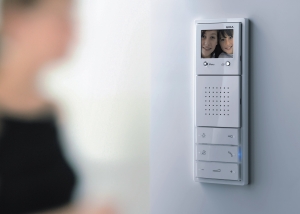 Tradition is an obligation. In 1966 Gira was the first manufacturer to put the 'surface switch' on the market. Generations of architects were convinced by its revolutionary design.
The push switch covers virtually the entire surface and was surrounded by a narrow frame and bridges. 40 years later, the system supplier from Radevormwald, Germany, has completely reinterpreted the F100 and equipped it with a full depth of functions.
The appearance of the new Gira F100 also impresses at first glance. Linear and precise, and at the same time soft and pleasantly reserved, the switch range can be perfectly integrated in modern living spaces. The especially narrow cover frame enables large-area inserts with sweeping lines that convey the impression of elegant dynamics.
But the new Gira F100 convinces not only with its design, but also with a large assortment. All functions for convenient, economical and safe living can be integrated in it. The extensive line for intelligent building management ranges from socket outlets, dimmers, rocker and push switches to inserts for blind and air-conditioning control to the Gira KNX/EIB and radio bus system. In particular, the EIB push button sensors convince with the easy-to-read inscription options. And the successful flush-mounted radio can also be integrated in the new series.
Of course, the Gira door communication system is also included in the new F100 range. The hands-free feature home station is available in audio and video versions, whereby the video version is equipped with a 2.5in TFT colour display.
All Gira LED orientation lights and signal lights, which can be provided with pictograms or text, and can therefore be expanded to illuminated information signs, are also available as part of the F100 range. Even the SCHUKO socket outlet with an LED orientation light, which switches on automatically via an integrated twilight sensor when darkness sets in and off again when there is enough natural light, is available in the design of the new Gira F100 product range.