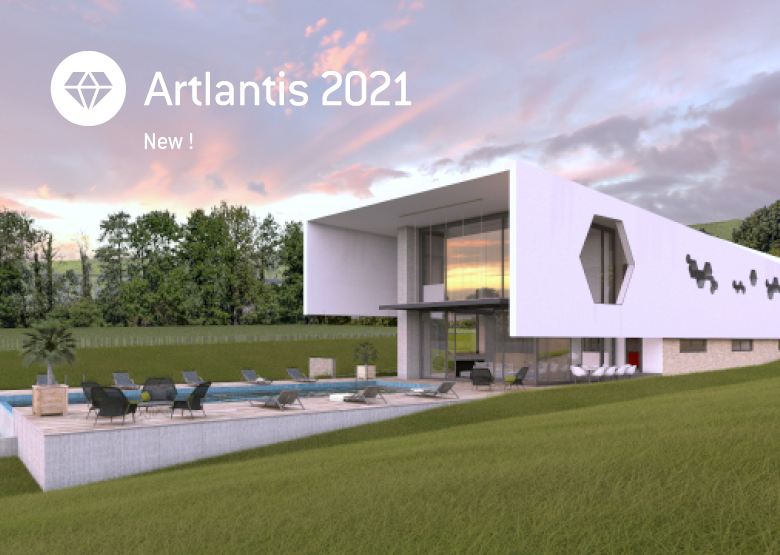 Abvent has recently announced the latest version of its flagship architectural rendering software. Artlantis 2021 introduces a bunch of novelties that significantly improve its users' productivity.
Please read on to learn about the new features this new version has to offer.
IFC Import
Artlantis 2021 enters the world of Open BIM! Known and recognized for its almost universal accounting, Artlantis 21 now imports the IFC format. This new performance, concerning the model's geometry only, allows the Artlantis user to receive any model from a co-designer using a modeler other than their own and, if necessary, to modify the design directly in their own working tool.
LUTs
Artlantis 2021 integrates LUTs, filters for modifying colorimetry and contrast in order to create a particular atmosphere or correct images in the preview and the final rendering. Artlantis 2021 offers a range of these filters by default. Should users wish to use any custom filter, they can import their preferred LUTs, which are available on various websites as free or licensed .CUBE files.
Easy interface
With Artlantis 2021, you can choose the interface: the one offered by default or the new Easy interface. More refined in terms of settings, it has many predefined values and allows you to modify the settings by level such as "high, medium or low", for example. This approach makes it easier to understand settings, simplifies and speeds up scene-setting. Advanced users or beginners, all can use it according to their habits, their technical knowledge or their preferences.
MediaStore
With Artlantis 2021, Abvent launches a brand new MediaStore. Completely redesigned both in terms of search engine and ergonomics, its benefits are obvious:
Clearer and more readable interface.
Faster navigation.
Faster and simpler media search (tag system).
Direct access via the internet using an Abvent iD account.
Available for versions 5, 6, 7, 2019 and 2020 of Artlantis…. and ready for future versions!
Visit Artlantis International Events to sign up for a free LIVE product presentation: https://artlantis.com/en/international-events/