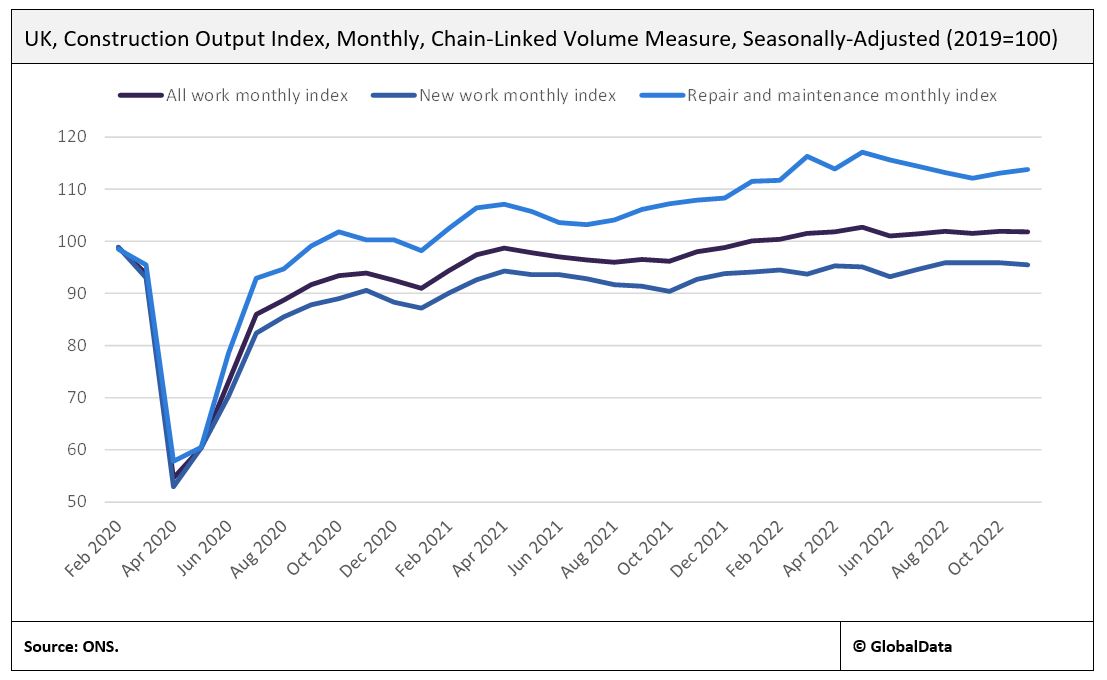 The latest data from the Office for National Statistics (ONS) shows that UK construction output was flat in November 2022 in month-on-month (MoM) terms, following growth of 0.4% in October and -0.4% in September. This is a result of repair and maintenance growing by 0.6% MoM and the new work monthly index declining by 0.4%. In terms of sectors, new infrastructure works grew by 4.2% MoM while non-housing repair and maintenance rose by 2.4%. The worst-performing sector was private housing, of which the output of new housing fell by 4.8%, while repair and maintenance declined by 1.7%. This is likely to be a reflection of a weakening residential sector amid rising interest rates and high inflation. In year-on-year (YoY) terms, output grew by 3.9% in November 2022, following YoY growth of 5.9% in October and 5.2% in September. Growth in November was primarily driven by repair and maintenance activity, which rose by 5.5% YoY. The level of new work posted growth of 3% YoY in November, but remains relatively subdued, still being  4.5% below pre-pandemic levels.
Following a stagnant second half of 2022, the UK construction industry is expected to weaken in 2023, with GlobalData predicting a contraction of 1.9% following growth of 4.1% in 2022. The fall in output is expected to be driven by the impact of rising borrowing costs on housing demand and the homebuilding sector, coupled with elevated energy prices and a shortage of skilled labour feeding into construction costs. Residential construction will be the weakest sector in 2023, with an expected contraction of 6.9%, following relatively strong growth of 6.4% in 2022. Industrial construction is also expected to remain weak in 2023, contracting by 1.3% amid mounting economic pressures in the UK that are expected to weigh on demand for manufactured goods. This reflects a particularly gloomy outlook for the UK economy in 2023, in which the IMF predicts a contraction in GDP by 0.6% in its World Economic Outlook January 2023 update.
In contrast, all other advanced economies are expected to post low to moderate growth rates. However, the UK's infrastructure, institutional, and energy construction sectors are expected to perform relatively well in 2023, with GlobalData predicting a 3.1%, 2.2%, and 11.7% rise in output levels, respectively. Greater levels of government spending amid an expected recession in the UK, coupled with greater investment in domestic energy production, is likely to shift the driver of construction output growth from private investments to public spending.