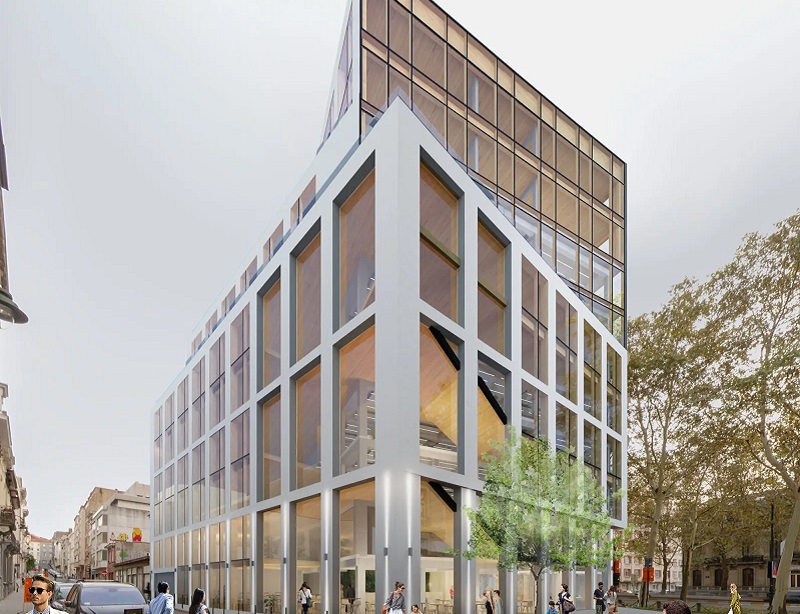 Union Investment and YUGENING have teamed up to remodel the building with a goal to reuse the existing structure, as opposed to demolishing and rebuilding, which is often the case with old buildings. While this involved overcoming various challenges, such as needing to account for the limited space between the fall ceiling and the structural ceiling, innovative solutions were found to create open workspaces and integrated air ducts.
In addition to sustainable construction, a key focus has been on the health and well-being of the people who will work inside the office building. The Precedent is designed to meet high WELL Building Standards, utilising plug-and-play smart technology optimised for wellness and biophilic design elements (such as green walls), and outdoor terrace areas.
Architectural gain
Véronique Orens, owner of YUGENING says: "The moment you realise that you spent 90% of the time indoors, you realise the massive impact architecture has on your life.
"People are the biggest cost for a company. What if architecture can prevent burnout, diminish sick leave, help us to focus better and for longer, and stimulate creativity and innovation? There is so much to gain."
The Precedent is in a prominent position, with two facades facing the main street avenue. Not only is this a beautiful area with the benefit of nearby trees and local amenities, but there is also a great opportunity for natural light. According to a systematic review published by JBI, it is argued that natural light in the workplace impacts health and productivity, stating that "as well as its necessity for Vitamin D synthesis, daylight also plays a critical role in maintaining circadian rhythm. Admitting daylight to the work area may increase worker satisfaction and productivity while slashing energy costs."
Getting the green light
With both sustainability and wellbeing in mind, YUGENING embarked on its first partnership with eyrise, a manufacturer of dynamic liquid crystal glazing. Its solar shading switchable glass designed for facades, eyrise s350, allows users to instantly adjust daylight quality to suit the needs of employees. This means that workers will be able to benefit from natural light without the risk of glare or rising room temperature.
"It's a growing trend where light and transparency is important, we know it's good for us as humans," explains Bruce Nicol, head of design at eyrise. "For facades, we want to create a variable light transmission – so a range of light transmission in percentage terms – and a variable G-value, which is the shading coefficient, but remain 100% transparent."
Dye molecules and liquid crystal are put between two sheets of glass that allow users to change the transmission of the glass and control the amount of light and energy going into a building. The tint of the glass is adjusted based on the amount of voltage. Overall, eyrise glass can boost a building's performance significantly and has been used for renovation projects across the globe, most of which have achieved or are working towards green certification. This experience is especially important as we consider the trend to reuse as much of an old building's structure as possible in the ongoing endeavour to minimise our carbon footprint.
"Since the initial collaboration, we were introduced to Union Investment (the developer), and the other design consultants. Everyone had input about how this glass ought to be put into this project, and it was brought into this project because we were allowing the maximum amount of daylight in and the view of the beautiful trees on Avenue Louise," Nicol adds.
The facade at The Precedent is being fitted with 1160m2 eyrise s350 instant solar shading, which contributes to the WELL Gold certification of the building not only due to ecological factors such as energy reduction, but also human factors such as permanent access to daylight. The visible light transmission range is between 11%-45%, with a colour rendering index range between 86%-90% and a G-value range between 0.3-0.13.
To discover more on the importance of sustainable buildings and achieving green certification, download the e-book below.