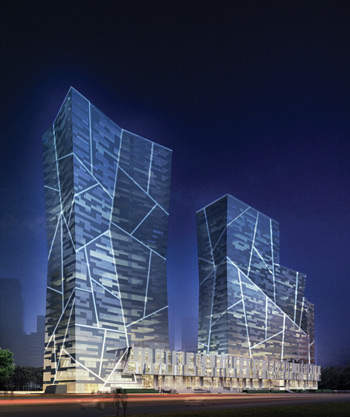 Loews Hotels, The Cordish Companies, and the Texas Rangers have announced plans to invest $150m in a new hotel and convention centre in Arlington, Texas.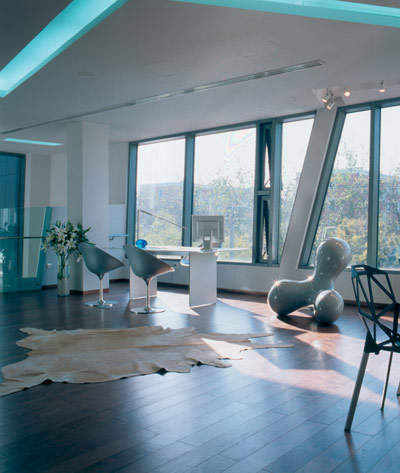 A 'warehouse shell' approach has been taken, allowing units to be use as either residential or office space.

Marriott, a global hospitality company, is all set to open Omaha Marriott Downtown in July this year at the Capitol District in Omaha, Nebraska, US, which will be managed by the Marcus Hotels & Resorts.
Soho Shang Du is a 170,000m² mixed-use development located in Beijing's CBD development area. The project has a large frontage onto Dongdaqiao Lu, the north-south arterial road that marks the western edge of the CBD as well as the eastern boundary of the central diplomatic zone. Shang Du is a key project that will hugely enhance the image of the Chinese capital ahead of the 2008 Olympic Games.
Lab Architecture Studio was commissioned to design the office and retail development on a 2.2ha site at the western edge of Beijing, adjacent to the city's landmark Landa department store.
The CBD's general plan calls for 10 million m² of buildings, with 5 million m² of new office space, 2.5 million m² of residential units and a similar amount of space for hotels and recreation. At the moment, demand is still keen; Fortune Plaza's 155m-tall tower, which was launched at the same time as Shang Du, sold out in only ten days.
Soho Shang Du is made up of elements spanning two city blocks, linked by an oblique bridge that crosses a busy city street. One tower holds offices, while the other is designed for residential and studio use. Lab has allowed for the 'warehouse shell' approach of its client, Soho China, where units can be used for either residential or office use, as if they had actually converted an old industrial unit.
Shang Du's complex design relies heavily on the use of fractals, where the same shapes repeat at different scales, from interior decoration to the towers themselves. The features on these surfaces are inspired by crystals, and allow Lab's Peter Davidson to make connections between nature and human habitation and to express his own ideas on diversity.
'For me, it's a way of adding richness to the experience,' he says. 'In ecological terms, diversity is what makes ecosystems strong. You reduce diversity and it's like the death gene; it reduces the ability to deal with dramatic change.'
Thanks to the complex designs enabled by computer modelling, fractal architecture has made something of a comeback in recent years. First popularised in the 1980s, this school of thought draws inspiration from the geometric patterns seen in nature. In architecture, the most high-profile example in Asia is the S Project masterplan for Tokyo, devised by Scottish-Japanese partnership Ushida Findlay.
SOHO SHANG DU DESIGN
Soho Shang Du's towers provide a high degree of visibility along both directions down Dongdaqiao Lu. The inverted triangles, with a 4m cantilever, will form a striking scene; though during the day the angled facades of the towers will change as the sun moves and weather conditions create different light effects.
The dynamic form of the corner building and embedded lighting effects at night create a distinctive urban landmark. In China, the shapes of many buildings in urban environments are outlined by neon lights, though not in this weird collection of angles. Also, the lines are pelmets recessed into the depth of the facade surface. Light comes from linear LEDs, concealed from direct view and reflected through stainless steel reflectors.
This pattern on the facade and its corresponding light lines are based on the tradition of ice-ray designs employed on traditional Chinese wooden screens. This is another use of fractals but also highlights Davidson's goal that his firm should exchange ideas with Chinese culture rather than simply impose its own tastes and ideals.
'We have tried using the ice-ray pattern to find a contemporary use for traditional design,' he says. 'This is not quoting history but finding a way to give it another kind of life.'
China is currently experiencing a backlash against foreign architects, who have been brought in to work on several high-profile projects, from airports to Olympic stadia. The Beijing Institute of Architectural Design has complained that many developers only invite foreign firms to bid or require local architects to work with outside talent.
Meanwhile, critics in the local press have accused foreign architects of using China's building boom as a chance to experiment, leading to sloppy principles and questionable design. A number of projects have been halted or scaled back as a result. In response, Davidson says he is keen to foster dialogue: 'I hope that by engaging with something traditional and giving it a new form and quality it shows that working in China is about exchange, not just about imposing something.'
Shang Du may be an innovative and unique structure, but Davidson is sure it fits in with the character of Beijing: 'When you come to China, you understand that cities here are chaotic and complex. In a way, you need an approach that engages with that complexity rather than saying, 'it's too hard' or 'I'll reduce it all down and simplify it'.'
DEVELOPMENT
Soho Shang Du's towers are embedded in a horizontal base of retail blocks. Connecting these units is an overarching filament-based design that links both sides of the site.
A collection of strands comes together in the middle of the bridge. The filaments that shape the retail building change by section, both horizontally and vertically, creating a sense of vertical change and highlighting its various intimate and open spaces.
With 20% space reserved for apartments and 40% each for shopping and office space, retail accounts for 37,000m² of the development, mainly in small units of 75m² to 150m². These are housed in low-rise commercial galleria, while the bridge between the blocks also carries a combination of fixed retail units and mobile tenancies, together with cafes and restaurants, helping to establish a link between the two sides.
Five floors of retail blocks on either side of the bridge are traversed by an irregular network of lanes that rise and fall in unexpected ways yet still provide access to all areas. They form a navigable network without any dead ends or need to back track, which is important given the nature of the development.
'The development is extremely large, but unlike most shopping centres there are no anchor tenants or uses,' says Davidson. 'The speed of the design and construction process makes it impossible to be specific about special uses or tenants. Under those conditions, it is important the internal spaces are intelligible and navigable, so it is possible to orientate oneself easily within the retail areas and understand the patterns of movement.'
While the retail building's exterior displays a simple rhythm of black panels and glazing, visual liveliness is focused on the interior's public spaces. These are based on the form of a geode, a rock with a simple exterior that when cut open reveals a rich crystalline interior.
The roof over the central open voids provides natural light into the spaces below and also incorporates adjustable ventilation and fan-assisted exhaust louvres. As light is reflected inside, these spaces change appearance in the same manner as the building's exterior. By internalising urban activity, Lab aims to reimagine the potential of arcades and galleria, with everyday street-based activity incorporated into this new space.
A variety of grains, spaces and passages provide dynamism to make circulation and promenades part of the site's visual theatre. The galleria can be altered to both indoor and outdoor modes, depending on the extreme fluctuations of the Beijing climate, to host activities that could range from fashion shows to rock concerts. Lab envisages Shang Du's internal spaces opening up to the streets throughout most of the year, only protected from the elements during the extremes of summer and winter.
The development's two main north and south towers have been designed as warehouse shells to enable a variety of occupations and size configurations on each floor. Each open-plan level comes with an efficient floor plan and core with common toilets and scissor stair fire escape. All floors are serviced by their own localised air handling plant.
Surface geometry has generated a variable floor plan that Soho has used to match unit size to buyer demand, varying between 75m² and 600m². A series of loft units, with space for internal mezzanines, have also been included. These are positioned in the lower levels of the main towers, immediately above the core retail areas with high window frontages onto the main street, so they can be used for commercial uses themselves.
INTEGRATION WITH BEIJING
Davidson is keen for Shang Du to contribute to life on the streets around it. He acknowledges that, with its size, there can be a challenge in Beijing of getting buildings to interact with each other. So here the buildings have been situated as close to the street as possible. 'One of the problems in this city is that there is just too much space,' he says. 'In New York there is a balance between street life and the buildings, which I think works. Here there is over-compensation, buildings are put too far apart and the street has less activity. There are no shop frontages, nor any acknowledgement that buildings engage with people.'
Unlike the buildings around it, Shang Du reinforces the existing street pattern. Rather than internalise the shopping experience, as in traditional mall developments, its public spaces act as a link between one road and another. He may be imposing his own singular views on Beijing, just as he did in Melbourne, but Davidson's approach proves that Western architects can apply their ideas with sensitivity to the demands of another culture if they are sufficiently open-minded themselves.
The full version of this article appeared in the September 2005 issue of idbi – Intelligent Design and Build Innovations