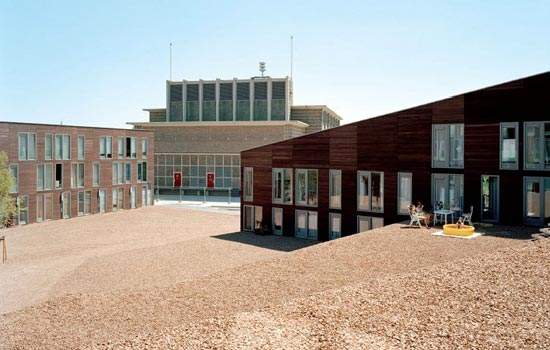 View of existing electric substation from above the stepped landscape of Schots 2 collective interior court.
View into shopping plaza between Schots 1 and 2.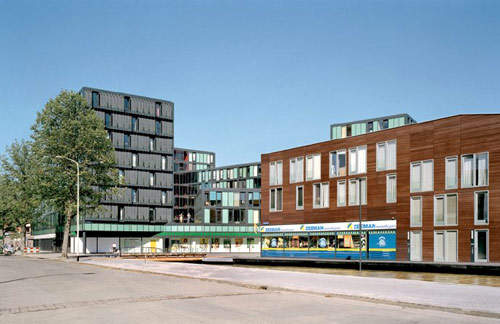 Overall view of Schots 1 and 2 looking into the sculpted courtyard of Schots 1 and water feature (upcoming) in front of Schots 2.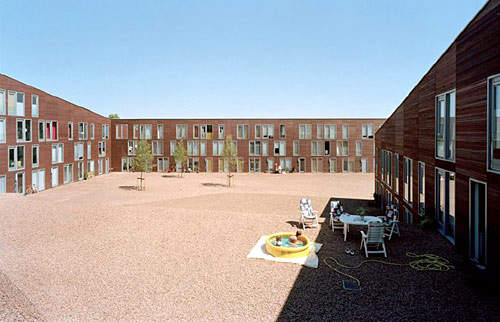 View overlooking stepped landscape of collective interior court of Schots 2.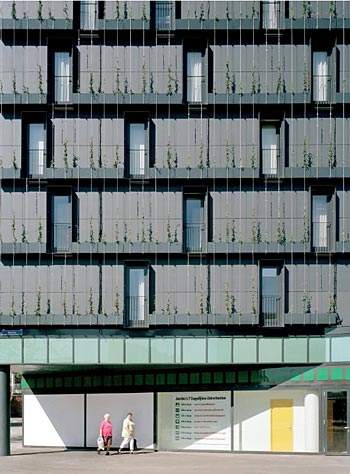 View close up of pointed ivy on wrapped stainless steel wire forming 'green elevation' of Schots 1.
Schots 1 and 2 aim to be generating forces in re-evaluating the role of housing in urban regeneration.
Following their Europan 3 win, architects S333 were commissioned in 1994 to develop a structure plan for the CiBoGa terrain, a 14-hectare, post-industrial site on the edge of the centre of Groningen.
The architect identified the site as being part of a larger urban ring structure of strategic importance in the city's ecological structure. The urban plan adopted by the city proposes 13 'schotsen' – compact building blocks eroded internally by new forms of semi-public space – that float in an open landscape that operates as a filter zone between the city centre and the twentieth century housing extensions.
The multi-layering of activities and landscape offers an alternative to the interiorised and hermetic world of the traditional urban block.
SCHOT 1 AND 2 CONCEPT
Schots 1 and 2 resolve the conflicts between the desire for spatial openness, and the requirements for programmatic intensification by creating a 'volumetric landscape' of 300 underground parking places, 110 winter gardens, 105 apartments, 44 houses, 14 patios, eight shops, four vertical gardens, three collective roof gardens, two courtyards, two supermarkets, and one medical centre.
Schots 1 and 2 are conceived as a single building form, which is, however, sculpted by flows that allow the blocks to evolve independently above street level.
Schots 1, a robust multi-storey block, is clad entirely in floor-to-ceiling glass with varying levels of transparency, reflection and opacity. Filling the awkward site, the building does not impose its mass directly on to its surroundings but concentrates the density at three points, creating in between roof terraces that mediate with the context.
Schots 2, clad in large, stained cedar panels, twists and turns to negotiate its site subsequently generating an extensive range of different living typologies. The restricted space of the site means that individual garden spaces are incorporated into the building volume. Housing above the shops is accessed by a sloped ground surface that makes a seamless transition from the street to a new ground level above.
CONSTRUCTION
The construction system for the ground-floor commercial level is concrete slab on column grid at 10.8m centres on 600 concrete piles. For the housing there is slip form concrete slab construction load-bearing shell at 7.2m and 5.1m centres.
The materials for Schots 1 façades are made of 930mm x 2,550mm glass panels with powder-coated aluminium frames and cladding with powder-coated steel balustrades.
For the access galleries a timber stud with insulation with 930mm x 2,550mm, factory-painted 'eternit' multiboard cladding. For the 'green walls', insulation is provided with factory-painted 'eternit' multiboard cladding with 1,000mm x 450mm x 450mm steel planters on brackets with stainless steel trainers.
For Schots 2 the façade is made of timber stud with insulation with sustainable roughly sawn, western red cedar rain-screen and colour stain protection coating. Windows and doors are conceived as 930mm x 2,550mm painted maranti wood frames with glass balustrades.