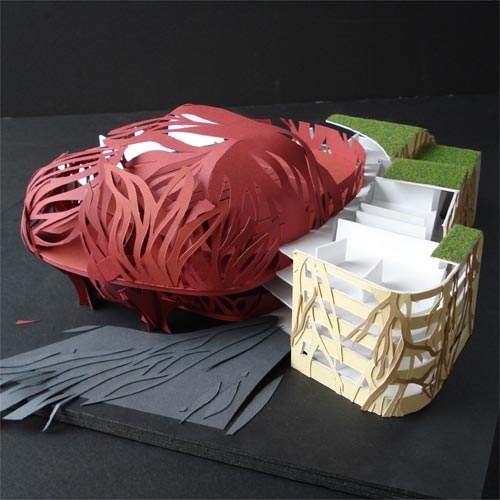 24h model showing the Rudolf Steiner College development from a bystander's viewpoint.
A close-up showing how the design means light can bathe the college in a way reminiscent of how light streams through tree branches in a forest.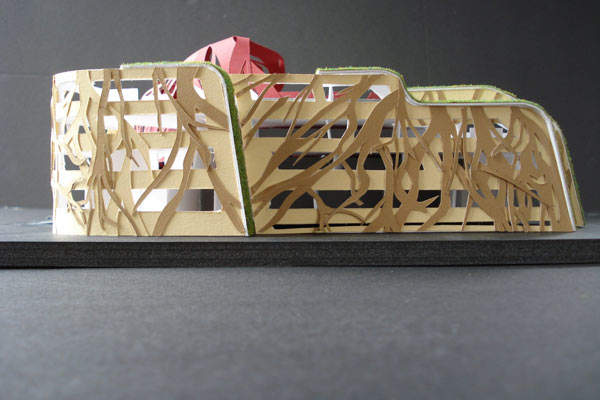 Three storeys of classrooms will fan out from the central performing arts centre.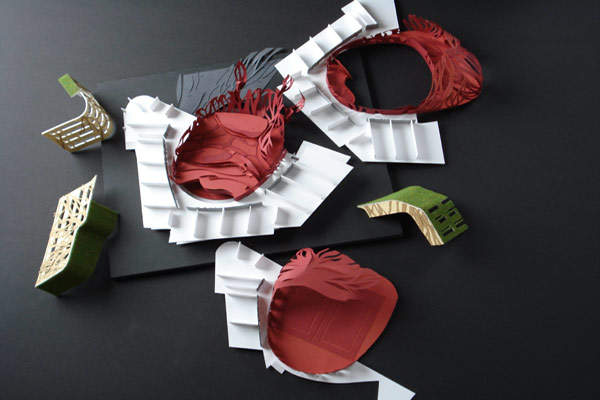 Starwood Hotels & Resorts, in collaboration with Greenland Group, has unveiled the new Four Points by Sheraton Hefei, Shushan in China, in a bid to double its portfolio in the country by 2018.
InterContinental Hotels Group (IHG) is pushing growth in Latin America with the launch of the Holiday Inn Express Rio Branco in Brazil.
The spiritualistic and innovative education philosophies of Austrian teacher Rudolf Steiner in the late nineteenth century have influenced the creation of more than 800 schools in his name around the world.
The Netherland's newest Rudolf Steiner school is to be built in Kralingen, a particularly pretty part of Rotterdam, with the winning bid by Dutch architects 24h extrapolating Steiner's vision to the very constructional fabric of the college itself.
DESIGNING FOR EDUCATION
Steiner believed that education should be systematically designed to meet each individual child's changing needs physically, mentally and emotionally. But his system appears to have been based on his own belief in anthroposophy or spiritual 'science'.
"The Netherland's newest Rudolf Steiner school is to be built in Kralingen, Rotterdam."
Steiner schools today draw on his beliefs and studies while forging their own, often quite individual, approach in line with modern knowledge and understanding.
They remain focused on learning for its own sake, linking arts and sciences and tailoring the curriculum to individual pupil needs – a practice that has inspired the term 'free school' education.
STEINER COLLEGE DEVELOPMENT
24h, which aims to be intensively involved in all phases of the development, from initial sketches to final nailing, won a European Union tender for the design of the secondary school on 9 October 2006, producing initial sketches of its design in February 2007.
Boris Zeisser and Maartje Lammers, chief architects at 24h, used their understanding of Steiner's philosophy in their development of the plan for the new 7,000m² Rudolf Steiner College.
800 students and 80 staff are expected to enjoy an environmentally friendly building with advanced climatic control that, through its holistic nature, gives more than a nod to the college's artistic syllabus. Originally, completion was scheduled for 2009 but latest estimates suggest the school construction now won't be finished until 2010.
"Almost the entire building has been constructed with a green façade and roof, that makes the transition passage to what lies behind as gentle as possible," Zeisser said.
"Underneath are gardens, outside spaces that can also be used as secluded nooks for teachers to retreat for reflection and relaxation. Here, a space arises as if among cultivated foliage, seeping through the entwined branches."
GROWTH OF A VISION
According to Zeisser, at the time of writing the regulatory phase of development had almost been wound up. "Several consultants have given their input for this phase. The several constructive, installation technical, acoustic and financial frameworks have been implemented in the plan," he said.
"Special care at the next stage will be taken to ensure the environment aware installation is supplied appropriately."
"The new Kralingen Rudolf Steiner College is being laid out in two main parts."
The new Kralingen school is being laid out in two main parts. Firstly, the heart of the school will incorporate a large auditorium with a stage, spaces for dance, music and drama, as well as a canteen, cloakroom and two gymnasia.
This combined performance arts space is the true heart of the Rudolf Steiner College so links all parts, the way that a heart pumps blood, or a tree sap, to its outlying limbs.
Surrounding the heart are three storeys of different classrooms for each age group and function. At the head is the staff facility, including administration and reception for the entire school.
The heart, with the main auditorium of the school as well as the other artistic classrooms below and two gym rooms above, is made of a wooden structure and cladding to promote 24h's concept of an overall 'land shape' – in part, the idea that a building should be part of nature as much as it shapes nature to fit its own needs.
"The design for the new school came about in close cooperation with teachers. By means of a lot of conversations all requirements have been fitted in to the plan for the new school," Zeisser said.