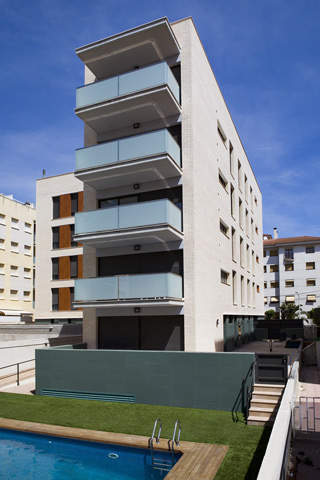 Starwood Hotels & Resorts Worldwide (SHRW) is to open 11 W Hotels and Retreats in Asia Pacific, as part of its plan to more than double its presence in the region and open 20 W Hotels in nine Asia Pacific countries by 2018.
The RIN 21 plot is located on a street perpendicular to the sea, between the sea sight promenade and the railway line, barely 200m from the marina of Tarragona in Spain. The geometry of the terrain, as a result of adding two plots with minimum separation distances as required by municipal regulations, confer a volume with an unusual L-shaped form.
The main initial difficulty faced was how to tune the maximum saleable square metreage required by a real estate developer with a low budget, without sacrificing the building's image.
RIN 21 organisation
The ground floor is organised into three dwellings, with a lobby that connects the pedestrian access to the outside communal area. The other plot is divided into four houses with well-positioned living rooms and an elongated core of vertical communications that provides good access to the odd geometry of the building.
The main aesthetic aim was to have a formal rigor in-keeping the character of the sea. Varying up to 90cm, the main façade windows are unified in large frames providing views to the inside. However, to achieve interior privacy for the bedrooms, lateral façades are composed by a rhythm of vertical voids, with one of their jamb windows inclined, providing a tangential vision of colour.
The building combines industrialised and traditional construction systems. The façade is mostly covered with a skin of brick-type klinker beige, while window openings were created with precast concrete lintels and marble gutters. The inclined jambs were finished with ventilated thermo-stable resin panels, fastened to the galvanised steel substructure.