US-based hotel management firm White Lodging has expanded it domestic portfolio with the launch of a new SpringHill Suites by Marriott hotel in Bloomington, Indiana.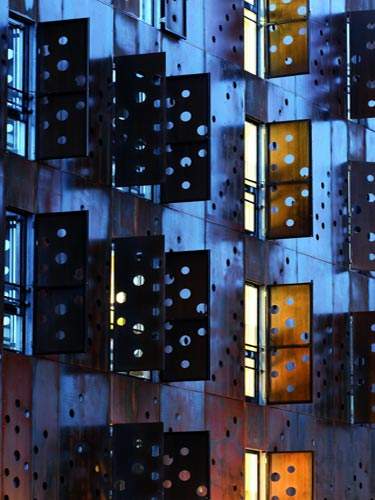 A Hyatt Hotels affiliate has signed a joint venture agreement with an affiliate of Desarrolladora Mexicana de Inmuebles (DMI) for the construction and management of a new Hyatt Regency branded hotel in Guadalajara, Jalisco, Mexico.
Performers' House is a modern interpretation of a Danish folk high school. With its exceptional scope and a unique cross-cultural international environment, the school offers ideal opportunities to develop young creative talent. Spacious performance areas, teaching rooms, a canteen, cafe, and student accommodation as well as housing for teaching staff combine to create optimal learning conditions for performance art students.
Performers' house renovation
Performers' House is situated at the heart of the paper mill's revitalised industrial area in Silkeborg, Denmark. The old boiler building has been redeveloped as a winter garden, teaching room and performance area, while an adjacent plaza links the historic building with its modern counterpart. This area can be divided into small, intimate areas, the idea being to create a thriving urban space, allowing interaction between the school and its surroundings.
The architectural style and choice of materials are simple and bold. The new building's façade of raw Corten steel was a deliberate choice. A simple, strong gesture, the rusted surface creates a simplified design expressing the area's industrial heritage, which imitates the tradition in an ultra-modern way. In this way the building fits into the existing context and its history. Interior cabling and ventilation ducts are left visible as part of the rigorously functional and rough interior treatment.
"The surface creates a simplified design expressing the area's heritage."
Transverse sightlines extend horizontally across the building and vertically up through the floors. On the ground floor, internal folding walls and red curtains can be opened and closed, providing endless potential for varying interiors.
The façade is equally versatile: shutters on the main stage fold back and can slide to one side, while the large glass sections can be opened up, making it possible for passers-by to hear music or catch a glimpse of theatrical performances.
Performers' House is a folk high school with a physical form as dynamic as the life pulsating within it.