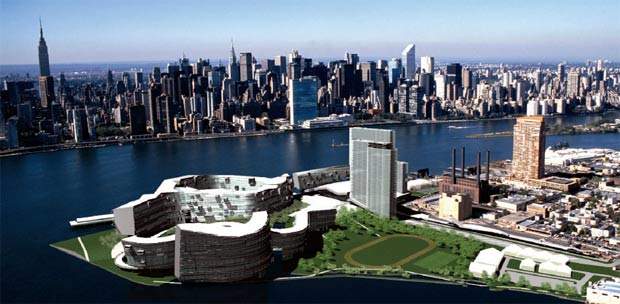 Wyndham Hotel Group has launched TRYP by Wyndham in Isla Verde, Puerto Rico, strengthening its presence in Caribbean.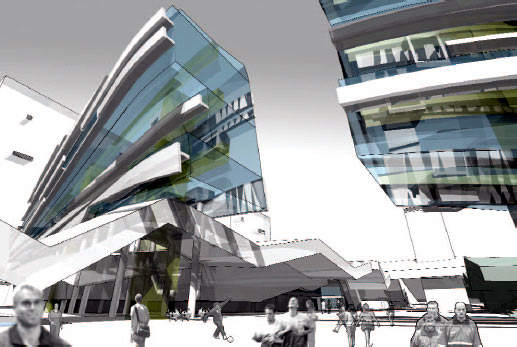 The Ritz-Carlton Hotel company and YTL Hotels have partnered to develop two new luxury hotels in the Asia-Pacific region.
New York has already begun the process of designing its own Olympic village. This is in anticipation of a successful outcome in its bid for the 2012 Olympic Games. The winning design emphasises reuse and reconnecting with individual neighbourhoods.
It is not until July 2005 that the International Olympic Committee (IOC) chooses a city to host the Games in 2012, but that has not stopped New York from selecting a detailed design for its Olympic Village should it beat Paris, London, Madrid and
Moscow to the finishing line.
INTERNATIONAL COMPETITION
In a preliminary heat organised by the State, the City, and the Port Authority of New York and New Jersey, California-based Morphosis came first out of 130 entries, including adventurous schemes from finalists Henning Larsens Tegnesture of Denmark,
Dutch firm MVRDV, New York's own Smith-Miller + Hawkinson Architects and Pritzker Prize winner Zaha Hadid Architects from London.
An advisory committee of former competitors, such as swimming gold medallist Donna de Varona, and Olympic experts reviewed the finalists' plans for their practicality.
"The compact 52-acre site will be transformed into a broad city park with 43 acres of green space."
The village will need to house 16,000 people during the games, and Morphosis's design incorporates criteria outlined in the IOC's own guidelines as well as the committee's ideas.
A key issue for developers, however, is the reuse of facilities built specifically for a one-off event. In this case, city authorities want the village to not only provide housing for 18,000 New Yorkers but also act as a high-profile model for further
developments.
REUSABLE DESIGN
New York's Olympic village is located in the southern part of Queens West along the East River known as Hunter's Point, directly across from United Nations headquarters. This site is currently used for light industrial purposes and warehouse
facilities.
Unlike Manhattan, Queens is primarily composed of low-rise structures, and residential and industrial areas. The Santa Monica-based firm had to design with sensitivity to the area, as well as meet the IOC's strict criteria, says Morphosis project
director Chris Warren.
"We had to balance the two and offer something entirely new to the housing realm, and to the community of Queens. It had to fulfil the Olympic programme and the wishes of the community, and leave New York with a project that, in our eyes, could
revolutionise the large-scale housing paradigm."
His team were lucky though, in that they had carte blanche to use a relatively large amount of vacant land in any way they wanted – "not a normal situation in New York by any means," Warren readily admits.
AN OLYMPIC COMMUNITY
Morphosis's aim is to instil in the village the Olympics' treasured values of diversity and cooperation, but in a community that continues to stimulate and inspire these ideals, along with civic pride, for years to come.
The designers therefore decided to take advantage of the water's edge to create a ribbon of raised housing.
"We set aside as much area as possible to reclaim the industrial site as public park, wetland, marina and plaza," explains Warren, "and we used the location nearest its most urban edge to reconnect with the city's infrastructure, commercial zone and
smaller-scale residential neighbourhoods."
"A central plaza provides a prime viewing corridor from the village to Manhattan's key landmarks."
At its centre is a plaza that establishes a prime viewing corridor from the village to Manhattan's key landmarks: the Empire State Building and the United Nations building.
It is designed to function as a public gathering space during and after the
games.
The 250m-long plaza also demarcates a clear transition between the housing and park areas.
It extends from the Long Island Rail Road terminal past the bus station to the water's edge, where the New York Waterways ferry is to have a prominent new
landing, thus linking the community's multi-nodal transportation system.
OLYMPIC VILLAGE RESIDENCES
Housing is in the form of a ribbon of 4,500 units, based in three long, low-rise buildings that follow the contour of the shoreline and offer views of the Manhattan skyline, thanks to breezeways and open spaces incorporated into the blocks themselves.
In another nod to the city centre, paved walkways are designed as extensions of midtown streets.
This scheme reduces the number of high-rise residences outlined in the original concept from ten to four, and these are sleek constructions. Yet it still ensures ease of access to transport hubs for dedicated athlete trains and ferries, with only a
five-minute walk or two-minute shuttle ride from the furthest apartment.
Density and height are intensified at the northern edge of the site to create continuity with the greater Queens West Development Corporation (QWDC) masterplan, while the integrative shaping of buildings and land forms creates a gradual transition
into the village's moderately scaled residential zone and parklands on its southern portion.
Meanwhile, the ribbon structure embraces the site to shield the park from the strong winds coming off the East River to the northwest. Buildings are canted 14º to allow more sunlight into the park and residential units.
TRAINING AND ENTERTAINMENT
To accentuate openness and connectivity, 80% of the waterfront structure is elevated an average of four storeys above grade to create broad portals that provide increased access to the waterfront.
By minimising the building to 80% of the total space, Morphosis transforms the compact 52-acre site into a broad city park with 43 acres of green space. This enables easy access to the banks of the river and Newtown Creek.
This setting allows for the integration of training sites adjacent to the residential zone, fully consistent with key IOC criteria, plus an outdoor training centre one mile away at McCarren Park.
The Morphosis design includes a full array of outdoor athlete facilities: sport fields, a full-size Olympic track around a football pitch, tennis courts and various smaller fields suited for personalised workouts.
In addition, the 100,000ft² state-of-the-art indoor training centre included in the original plan houses gymnasiums, an Olympic-size swimming pool, exercise and fitness areas, locker rooms with saunas and support facilities.
There are several entertainment areas: a four-screen cinema, marina, natural amphitheatre and beach with volleyball courts. Morphosis also plans to build a retail area, which could include shopping, internet cafes, arcades and game rooms.
SUSTAINABLE DESIGN
A tidal garden and wetland estuary act as nodes for gathering and collecting surface and storm water run-off from rooftops and hardscaped areas. These areas act as filters, which remove toxins and chemicals before water is released into the creek and
river.
"The design has access to transport hubs for dedicated athlete trains and ferries."
"First, the water needs to be oxygenated," says Warren. "This will be done by letting it move over a series of platforms, falling from one to the next, and naturally returning oxygen to the water. Then, the water will flow through a new wetland
system, filled with various plants selected for their ability to naturally filter pollutants and allow clean water to be returned to the waterways." These wetlands can also act as microclimates for birds, water fowl and amphibians.
Under NYC2012's plan, the Olympic village would be financed and constructed by one or more private developers selected by QWDC in consultation with NYC2012. The village would be rented by NYC2012 for the games and thereafter return to the developers
for use as private housing. Whether any of this happens, however, is in the hands of the IOC.