Hotel occupancy in Dubai, UAE, increased by 10.5% to stand at 80.8% for July 2011, compared with the same month last year, according to global consultancy firm Ernst & Young. The emirate's average room rate rose by 6.2% and its average room yield increased by 22% year-on-year.
Hyatt Hotels has closed the $660m acquisition of 20 properties from LodgeWorks and its private equity partners, with one hotel acquisition still to close during the fourth quarter of 2011. The deal, which was originally to include the purchase of 24 LodgeWorks properties for $802m, was
Sri Lanka-based John Keells Holdings (JKH) is to construct a LKR2.9bn ($23m) business hotel in Colombo, Sri Lanka. In a joint venture with Sanken Lanka, the new 25-storey, 240-room hotel will be managed by group unit Keells Hotel Management Services. JKH deputy chairman Ajit G
Israel-based Alrov Properties & Lodging has selected MICROS Systems' technology for use in its European and Israeli hotels. Alrov will implement the MICROS OPERA Enterprise Solution, which covers property management, sales, catering and reservations, in its properties by 2013.
Indian real estate company Unitech is to sell its three hotels, which are under development, in Gurgaon, Noida and Kolkata. The sale of the hotels, which have a total of 600 rooms, is part of Unitech's strategy to exit most of its non-residential businesses. The developer is n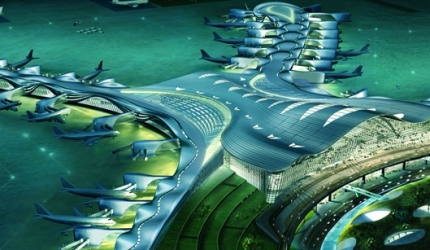 Abu Dhabi International Airport Midfield Terminal Complex (MTC) is being built as part of the airport's expansion plans. The unique X-shaped building will be located between the two runways, hence the name Midfield.
The MTC will be an architecturally significant building designed as a gateway to the city of Abu Dhabi. It is being developed in support of the UAE government's Plan Abu Dhabi 2030 scheme, aimed at promoting business and tourism in the region.
The terminal is being built by Abu Dhabi Airports Company and is expected to be opened in 2017. It has been designed by Kohn Pedersen Fox Associates and is estimated to cost $2.94bn. A notable development near the airport is a zero-carbon city in Masdar.
Design of the Midfield Terminal Complex at Abu Dhabi International Airport
"The MTC will be an architecturally significant building designed as a gateway to the city of Abu Dhabi."
The MTC has been designed to reduce walking distances while increasing aircraft parking capacity. After extensive studies, an X-shaped building was considered as the best solution to achieve this objective.
The terminal building will be 630,000m² (6.7 million ft²) to 702,369m² (7.5 million ft²) in size, and 52m tall its highest point.
Instead of columns, the MTC will use long span leaning arches, which render an open and airy feel. The roof of the terminal curves downward at various points to protect from the sun.
The building is designed in such a way that it is visible from 1,500m away. The design also includes space for future expansion. The terminal can be expanded to handle around 50 million passengers annually.
Midfield Terminal Complex finance
A consortium of banks is providing a loan of $1.08bn for the Midfield terminal project. The consortium includes Mashreq Bank, Al Hilal Bank, First Gulf Bank, Union National Bank and Arab Bank
---
Related project
---
The new Abu Dhabi Guggenheim Museum will be a world-class museum devoted to modern and contemporary art. In July 2006 the government of Abu Dhabi (Abu Dhabi Tourism Authority – ADTA) and the Tourism Development and Investment Company (TDIC) signed a Memorandum of Understanding (MoU) with the New York-based Guggenheim Foundation to establish the new museum.
---
Construction and materials used for the midfield terminal complex
The terminal's construction is expected to take four years to complete. Site preparation and foundation works were finished in 2010 and 2011, while construction commenced in August 2012.
About 69,000t of steel, over 680,000m3 of concrete, 360,000m² of suspended ceilings and 325,000m² of natural stone flooring are expected to be required for the construction of the terminal. An additional 135,000t of rebar and 500,000m² of cladding will also be required.
Facilities at the new terminal of Abu Dhabi International Airport
The MTC will include associated support building occupying an area of 800,000m² and access to parking stands for cargo. Around 20,000m² to 25,000m² of space will be dedicated to retail and food outlets and another 8,400m² towards an indoor park.
A three-star transit hotel with 163 rooms is also part of the terminal. The parking facility is designed for 3,000 short-term parking spaces and 1,500 long-term parking lots.
Sustainability features of MTB
The MTB is designed to meet the UAE's Two Pearl Rating sustainable design. Several design elements have been incorporated in its design. Glass facades reduce heat gain and provide daylight in the interiors, reducing the need for air conditioning and artificial lighting.
"A notable development near the airport is a zero-carbon city in Masdar."
Solid cladding has also been incorporated into the design to provide additional protection from the heat. Water conservation is another sustainable aspect of the project. Dry climate landscaping will be used to minimise use of potable water. Irrigation of outdoor plants will be done using waste water. Other sustainable features include use of high quality durable materials, low-energy lighting and low-emissions vehicles.
MTB contractors
A joint venture of TAV, CCC and Arabtec has been awarded a $2.94bn contract in June 2012 for the construction of the new terminal at Abu Dhabi international airport.
Hill International and AECOM have been appointed as the construction managers for the project under an $85m contract. ECG provided geotechnical and design services for the project. Parsons was responsible for preparing the environmental and sustainability requirements of the terminal.