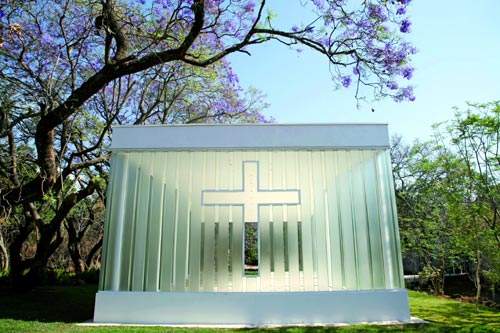 Marriott International has sold the London EDITION hotel and also signed agreements to sell two other EDITION hotels for a total price of $815m.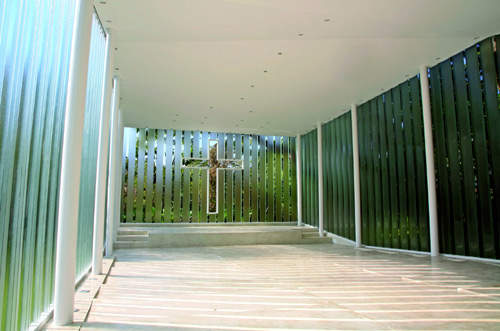 Marriott International plans to open a new hotel in Mexico and Carlson Rezidor Hotel Group is expanding its Netherlands portfolio, while Hersha Hospitality is selling its non-core portfolio to generate cash. Hotel Management Network wraps up the key headlines from 2013.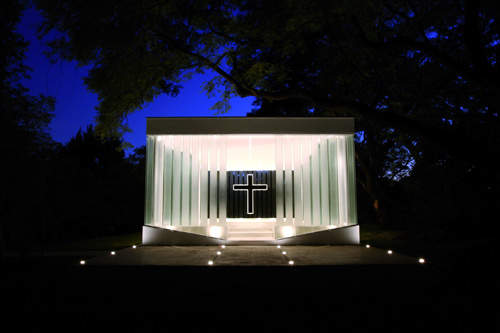 Estancia Chapel at night.
La Estancia Chapel was designed for a beautiful Mexican colonial garden that caters for weddings. It is located in the town of Cuernavaca, a one-hour drive south of Mexico City. Since it lacked a chapel, previous weddings all took place under a light canvas canopy roof.
Cuernavaca, 'the city of eternal spring', has become a very popular destination for couples from Mexico City. Its warm climate, relative proximity to the big city and beautiful gardens, make it a perfect wedding destination.
Crystal chapel
It was suggested that the crystal chapel should be fitted with air conditioning to counteract the heat that would be generated in the closed interior. But this was not approved due to its high cost and the potential contamination of the surrounding environment, both important issues that led to the consideration of replacing the glass for another material.
In subsequent discussions it was decided that the original crystal chapel design could be preserved without the use of air conditioning, if the U-profiled glass panels were separated in the manner of lattice-work, creating a well-ventilated space as well as achieving visual play between the interior and exterior.
The site for the chapel was carefully chosen within an enormous area of abundant vegetation. The location was chosen as it did not require the removal of any of the existing plants or trees. It is situated under the large jacaranda trees, which form a natural arch over the chapel and provide it with ample shade, thus reducing temperatures during the day. The construction aimed to have the least possible impact on the site.
"The four façades are covered with U-profiled glass."
The chapel was conceived as a box and compressed to form a peaked roof. Different shapes were traced on its lateral facades to form a prism which was then subtracted from the main volume. The four façades are covered with U-profiled glass and each piece is spaced 10cm apart. In the altar façade, a cross was outlined and removed from the glass veil creating a window that looks out onto the surrounding garden.
The exuberant vegetation and tall jacaranda trees permeate through the glass lattice walls, creating a graceful and rhythmical dialogue between the interior and exterior space.