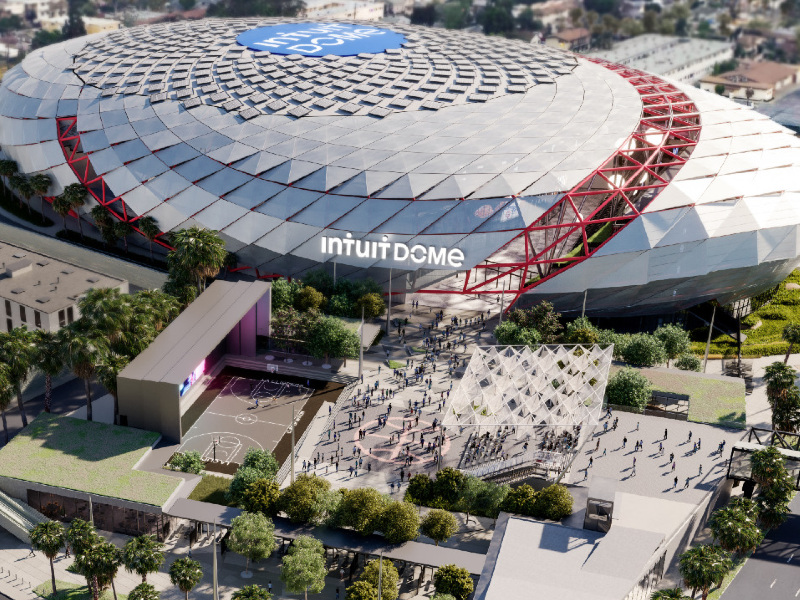 The Intuit Dome arena will be home to LA Clippers. Credit: NBA Media Ventures, LLC.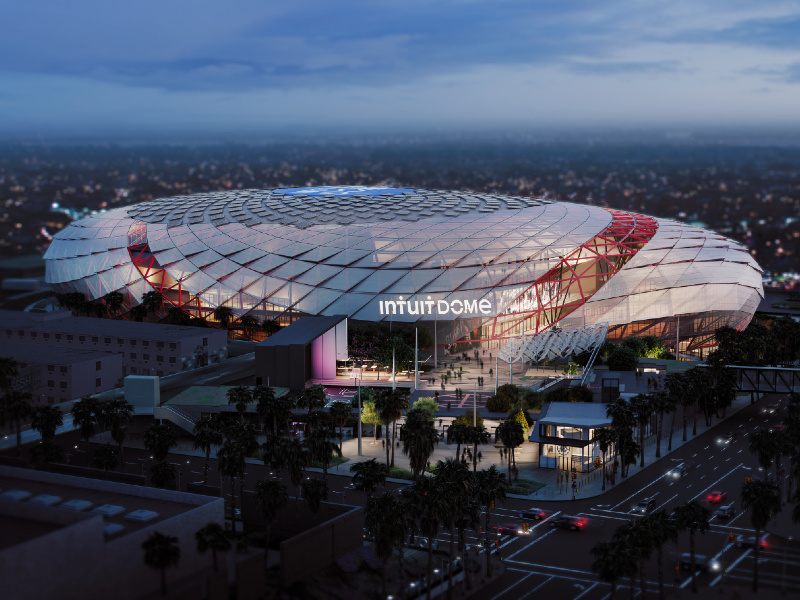 The arena, which is being built in southern part of Inglewood city, is expected to be ready for the 2024-25 NBA season. Credit: NBA Media Ventures, LLC.
Intuit Dome is supported by Aspiration as the founding partner. Credit: NBA Media Ventures, LLC.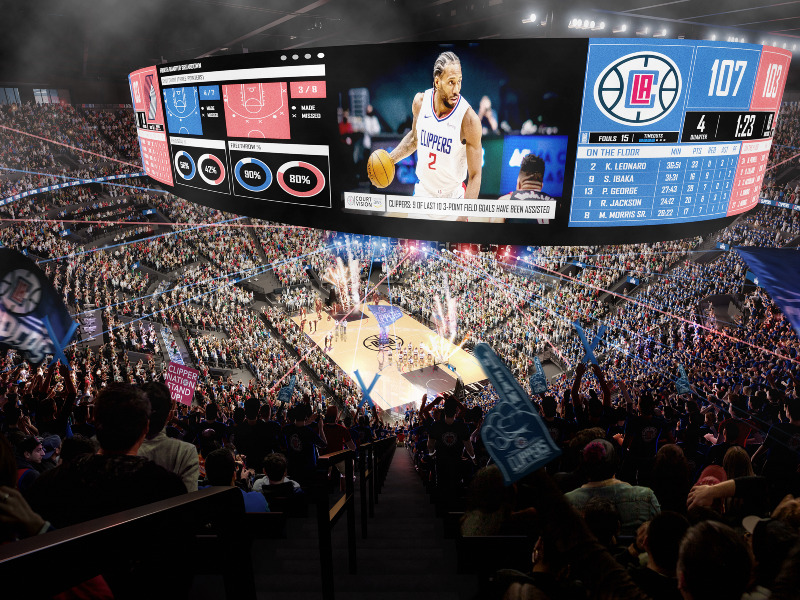 Spanning 28 acres, Intuit Dome will feature several amenities ranging from practice facilities and team offices to retail and restaurant spaces. Credit: NBA Media Ventures, LLC.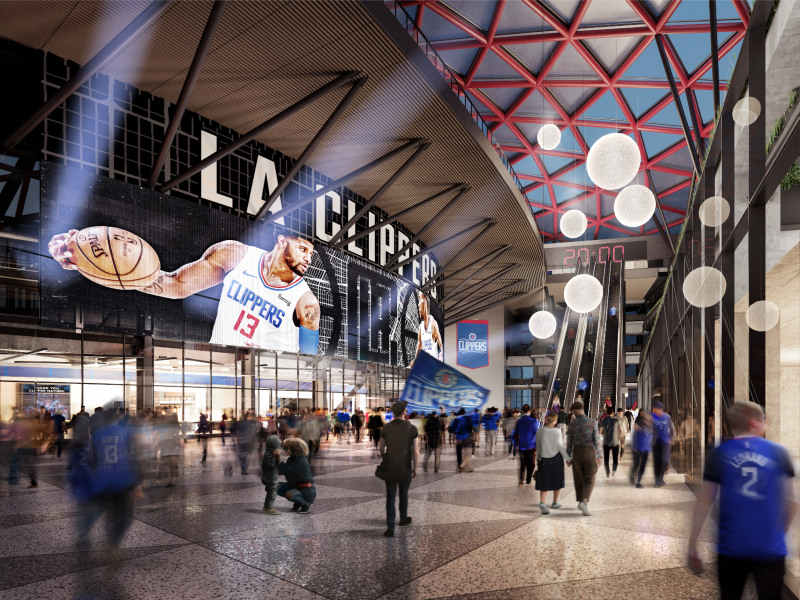 The arena will have more than 4,100 parking spaces at three different locations at the site. Credit: NBA Media Ventures, LLC.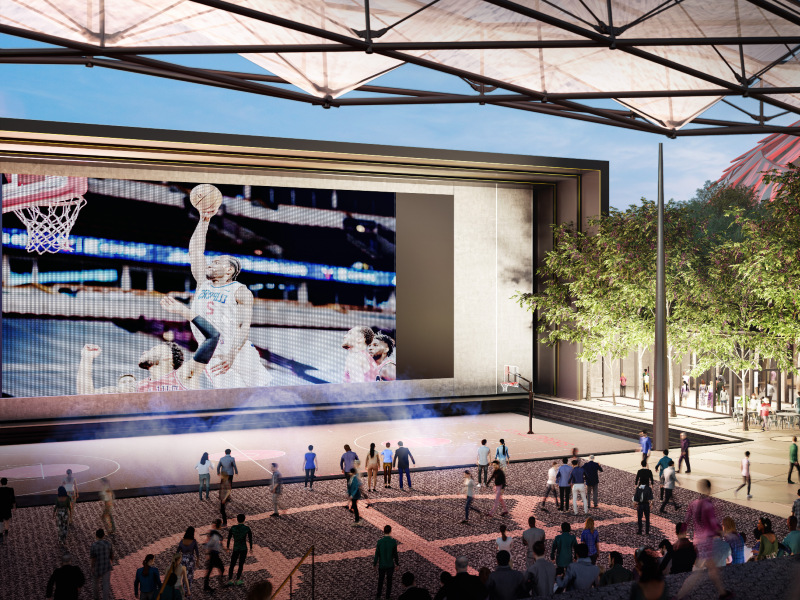 The ellipsoid structure of Intuit Dome will have a distinct design. Credit: NBA Media Ventures, LLC.
Intuit Dome is a new indoor stadium being developed in Inglewood, California, US, for the Los Angeles Clippers (LA Clippers), an American professional basketball team competing in the National Basketball Association (NBA).
The new indoor sports arena will be home to LA Clippers. It will host NBA matches, including pre-season games, season games and playoffs. It will host conventions, concerts, corporate or civic events and other sporting events throughout the year.
LA Clippers' partners in the project include financial software developer Intuit and personal finance provider Aspiration, both based in California.
Intuit secured the exclusive naming rights for the arena under a 23-year partnership with LA Clippers. Aspiration was named Intuit Dome's first founding partner under a multi-year partnership with LA Clippers in September 2021. It will help build the facility as a sustainable arena.
The ground-breaking ceremony of the new arena took place in September 2021. The venue is expected to be ready for the 2024-'25 NBA season.
Intuit Dome location
The Intuit Dome site is located in the southwestern portion of Inglewood city in California. It lies within Los Angeles County, approximately 16km south of downtown Los Angeles.
The location is situated to the south of the Hollywood Park Specific Plan (HPSP) area, across West Century Boulevard. HPSP includes the redevelopment of an approximately 238-acre site into a mixed-use development with retail units, accommodations, office spaces, community areas and a hotel.
The Los Angeles International Airport and the Forum, an indoor entertainment venue with a seating capacity of approximately 17,500, are located within a 3.2km radius of the site.
Intuit Dome design details
The 915,000ft² (85,006m²) arena will be a multi-faceted, ellipsoid structure with a maximum height of 150ft (45.7m) above ground level. The building's exterior will include a steel frame with diagrid geometry inspired by a basketball net with a ball passing through it.
The facade and roof of the arena are easily recognisable and distinctive due to their unique design, while lighting and signage will further increase visibility, especially during the night.
The facade and roof will be built using materials such as metals and glass. Solar panels will be installed in the most exposed areas to reduce peak loads during event days. The roof is planned to be installed with satellite dishes, which will not be visible from the ground.
The arena will adopt an indoor-outdoor approach to leverage the Southern California climate in order to ensure enough natural ventilation at the entrance and upper concourse.
The main entrance to the arena will be located on the ground level on the northern side of the arena structure. Additional entrances will be created on the southern edge of the building to allow access to premium ticket holders, performers, staff and players.
An outdoor plaza will serve as a gathering and pedestrian area for the attendees. It will be surrounded by retail units, commercial areas, and restaurants. The plaza will be landscaped with native drought-resistant plants. Further, it will feature seating areas, public art and an outdoor stage.
Features of Intuit Dome
The site of the new 18,000-seat multi-purpose arena spans approximately 28 acres. The arena is being built on a 17-acre land parcel located at the centre.
It will comprise an 85,000ft² (7,896m²) team practice and athletic training facility, 71,000ft² (6,596m²) LA Clippers team office space, 25,000ft² (2,322m²) sports medicine clinic, 48,000ft² (4,459m²) space for retail and restaurant units across two levels, 80,000ft² (7,432m²) circulation and gathering space, and up to 15,000ft² (1,393m²) of space for community uses.
The team practice and training facility will feature five full-sized basketball courts, a lobby area, and training areas. An additional 500 temporary seats will be provided to host other sports or entertainment events.
The indoor arena will also feature changing areas, locker rooms, premium clubs, suites, ticket and box offices, lounges, media areas, kitchens, restrooms, storage and loading docks.
Parking facilities
A dedicated three-storey, above-ground parking garage with 650 parking spaces will be built to the south of the main arena. Known as the South Parking Garage, it will be reserved for players and employees of LA Clippers, premium ticket holders and VIPs.
Located to the west of the arena site, the West Parking Garage will be developed as a six-storey structure with 3,110 spaces.
The East Transportation and Hotel component, which will be developed 650ft east of the arena, will be a three-storey structure.
The first floor of the building will serve as a transportation hub with staging space for 20 buses and 23 mini-buses, and 182 car spaces for the Transportation Network Company (TNC) for queuing and pick-up/drop-off. The remaining two levels will feature 365 parking spaces. The site will also include a 150-room limited-service hotel.
Sustainability features
Intuit Dome is being developed as a 100% carbon-free facility. It is the first sports arena in the world to be built with 100% embodied carbon concrete.
The arena is expected to have zero net greenhouse gas emissions as it will operate as a fully-electric venue with batteries and solar power. It is expected to have sufficient on-site energy storage capacity to meet the electricity needs of a basketball game or a concert.
An onsite waste reduction programme will be implemented to reduce the amount of waste that goes to landfills. Furthermore, the arena will focus on improving the regional air quality.
Intuit Dome will also have a mechanism in place to monitor annual greenhouse gas emissions and transportation impact.
LA Clippers is targeting a Leadership in Energy and Environmental Design (LEED) Platinum certification for the arena.
Contractors involved
AECOM was selected by LA Clippers as the lead designer for the Intuit Dome stadium in August 2019.
The core design team also included Anderson Barker Architects, Henderson Engineering, Hood Design Studio, Walter P. Moore, City Design Studio and Labib Funk & Associates.
Anderson Barker Architects and City Design Studio provided the design for the plaza buildings while Hood Studios designed the landscape architecture.
A joint venture (JV) of AECOM Hunt and Turner Construction was selected as the construction manager for the project.
The environmental impact study was conducted by Fehr & Peers and Environmental Science Associates (ESA).