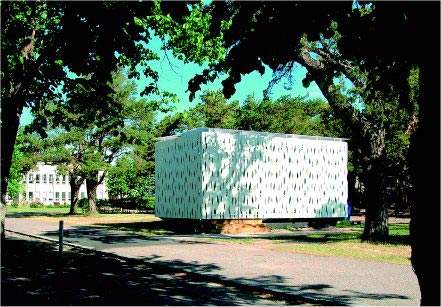 Marriott Hotels has outperformed other rival brands as the most preferred hotel in London by gaining top points for room satisfaction, friendliness of staff and cleanliness, according to a survey conducted by Hotel Industry Magazine's data centre partner, LJ Research Hotel Monitor.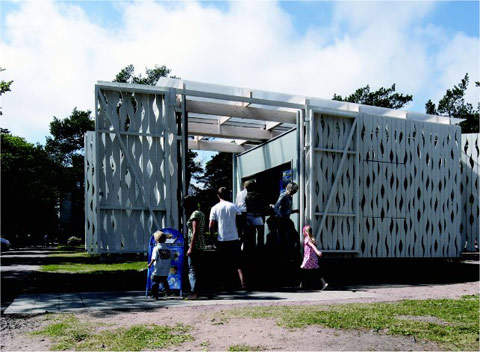 W Hotels Worldwide, a brand of Starwood Hotels & Resorts Worldwide, is set to enter into Israel with a new project featuring a hotel and residences that are scheduled to open in the Jaffa district of Tel Aviv in 2015.
Hanko is a small summer resort in Finland. The ice cream kiosk in a small seaside park will be open during the summer. In addition to the usability of the kiosk in summer, winter protection of the wood against the harsh environment was also key to the design.
To solve this problem, the kiosk is made up of two parts – a coloured-core and a decorated envelope. The coloured core is the structural part of the building and guarantees comfortable commercial activities, while the decorated envelope hangs from the roof, veiling the coloured core and protecting it from the elements. Any damage to the envelope can be easily fixed as it is separate from the structure.
LEDs sit between the core and envelope, turning the whole building into a big lamp during the long, dark winter, creating an aesthetic object in the park. The composition, featuring the decorative shape in front and colour behind (positive and negative), is also the architectural characteristic of the buildings of the town of Hanko.
Ice cream kiosk terrace and façade
The ice cream kiosk has a large terrace, which opens out onto the street that runs down towards the sea. By opening the two big doors, the terrace is joined to the street and naturally welcomes pedestrians inside.
The boards of the kiosk envelope were cut by a CNC machine. Three kinds of board were produced and randomly placed on the façade. This randomness guarantees flexibility for future expansion or redesign of the building.
During the construction process, the boards were united as a panel with a frame behind. Each element of the kiosk was prefabricated in a workshop and transported to the site. Prefabrication increased the accuracy of the design and made the on-site construction quick and easy.