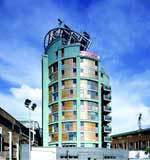 French royal château Palace of Versailles is expected to be converted into a luxury hotel in order to raise revenue for its maintenance.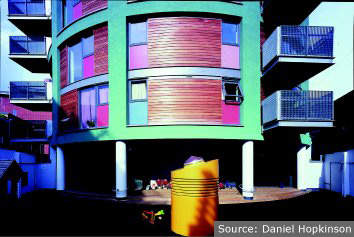 Greater China are set to open three additional Element branded properties from Starwood Hotels & Resorts over the next four years.
This project is a new residential building on a brownfield urban site. City centre amenities are within walking distance and occupiers have immediate access to public transport, reducing reliance on cars. Sustainable issues were high on the green agenda for this construction.
LOW-ENERGY ARCHITECTURE
The building employs the concept of low-energy architecture. Its body and skin have been designed to consume minimal energy, and all materials have been chosen to minimise embodied energy. The structure is cylindrical in shape, reducing surface-to-volume ratios and reducing fabric losses. Its truncated roof faces southwards, deriving maximum benefit from solar energy.
The reinforced concrete structure acts as a temperature regulator. Energy is absorbed into the thermal mass of the structure during warm weather and released during cooler periods. The use of natural materials ensures low embodied energy and thermal performance.
The atrium is at the heart of the building's natural ventilation system. Wind pressures and stack effects mean that during the cooler seasons air moves in from low-level intakes and out at high-level openings.
The glazed top of the atrium ensures that all main circulation areas are naturally lit, reducing energy consumption. Heat build-up in the atrium is regulated by motorised dampers at roof level.
REDUCING WATER AND ENERGY CONSUMPTION
Low flow technologies are used throughout in kitchen and bathroom fittings. Showers, rather than baths, are provided, cutting water consumption Waste separation is supplied and separated items are transported to recycling centres Appliances have been chosen to minimise water and energy consumption.
"Sound architectural design and engineering solutions has resulted in a sustainable, low-energy building."
Lighting to the apartments is from sockets at low-level and fixed-connection wall points. 50W low-voltage lights are provided in bathrooms and lobbies.
Communal and external luminaries and apartment pendants incorporate low-energy, compact fluorescent lamps. Communal areas are controlled via PIR automatic switches.
Heating to apartments is by a system of embedded floor pipes. Each room, including bathrooms, has its own loop
The combination of sound architectural design and engineering solutions has resulted in a sustainable, low-energy building, delivered within a commercially sustainable budget without any aesthetic loss.