Accor, a French hotel group that operates in 92 countries, plans to expand its current network of 300 luxury/upscale hotels to 400 hotels by 2015 under its four brands Sofitel, Pullman, MGallery and Grand Mercure.
Marriott International, in partnership with Inter Hospitality, an organisation created to generate long-term value for the Inter IKEA Group's property division, is set to enter into the economy tier, three-star hospitality segment in Europe with the development of the MOXY HOTELS brand.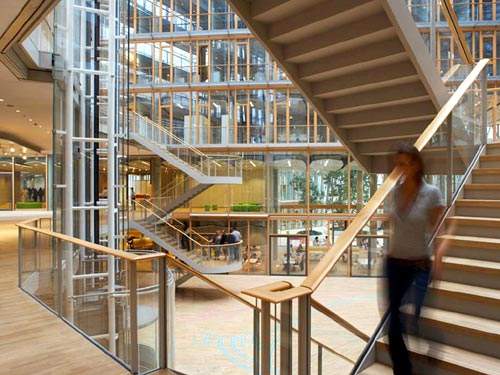 Hilton Worldwide, a global hospitality company and owner of the DoubleTree by Hilton brand, and hotel management company Twin Tier Hospitality of Pennsylvania have announced that the Hilton Cleveland East Beachwood hotel will be rebranded as the DoubleTree by Hilton Cleveland East - Beachwood as of 11 March 2013.
The headquarters of the European Investment Bank (EIB) is located in the European quarter of the Kirchberg-Plateau in Luxembourg. The original bank headquarters building dates back to 1980. The site for the new bank building is immediately adjacent to the older building, facing the city on one side and the landscape on the other.
The EIB finances EU projects and is one of the most influential banks in the world. The building, with an area of 70,000m², integrates all functions of the headquarters and has space for 800 employees.
A light and completely glazed vaulted-glass sheath spans over the v-shaped plan of the office wings, which are connected via atria and winter gardens. The terracing that is the key design feature of the older building is reflected in the design of the atrium – relating the two buildings to one another without compromising their distinct identities.
In a natural manner the design relates to the different height level surrounding the building and as such blends into the site. The topography of the site extends into the interior spaces of the building: halls, restaurants, conference rooms and other public uses are organised around landscaped terraces.
Flexible floor plan
The flexible floor plan allows fully reversible office layouts and equal spatial qualities. Open, common spaces at the intersections of the freely interchangeable departments encourage communication and spontaneous interaction.
The halls function as a thermal buffer zone, which is an important part of the energy concept of the building. The EIB is the first building in continental Europe to have been certified as 'excellent' by the British Building Research Establishment Environmental Assessment Method, BREEAM.
The winter gardens on the landscape side in particular extend the usability throughout the year and guarantee user comfort in the building. They allow natural ventilation of the offices while simultaneously reducing energy needs.The ecological concept reduces CO2 emissions by up to 25%. Environmental-concept atria as climate buffers, heat recovery from vitiated air, thermal activation of the load-bearing structure, reduction of the general level of office lighting to 300 lux.