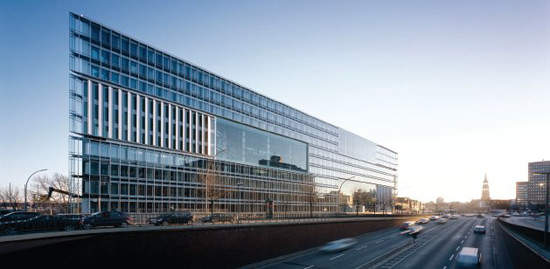 The Deichtor office building, Hamburg, Germany.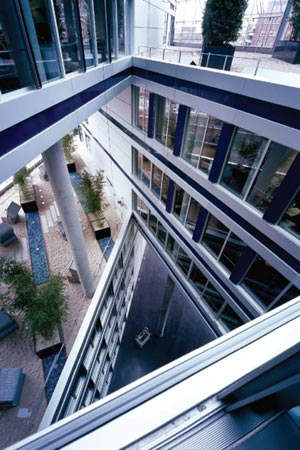 InterContinental Hotels & Resorts, a part of InterContinental Hotels Group (IHG's), family of brands, has opened a new hotel in Santo Domingo, Dominican Republic.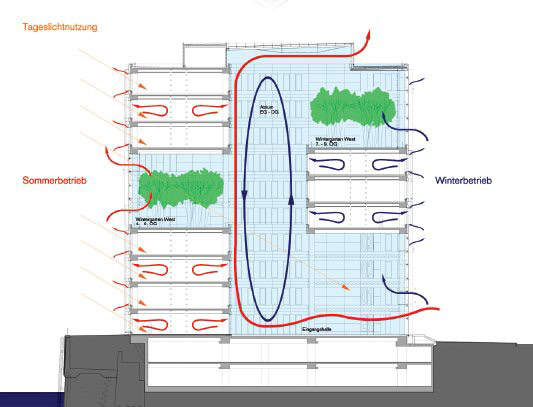 The Deichtor office building is a naturally ventilated building with minimum investment and running costs for heating, ventilation and lighting.
The 'Deichtor' office building is located at the gate to the Hamburg freeport. The new development stands between the historical brick warehouses and the 100-year-old business district, the first large scale office buildings in Hamburg.
The floors behind the outer glass triangle are z-forms stacked and mirrored above each other, forming four-storey high entrance halls and three-storey high winter gardens all linked to one other.
THERMAL CONCEPT AND DESIGN
The client's brief demanded a naturally ventilated building with minimum investment and running costs for heating, ventilation and lighting.
Model calculations show that the chosen thermal concept guarantees acceptable summer temperatures with almost no mechanical ventilation or cooling. The volume of the inner atria and halls as well as the often exposed concrete structure are key factors to this concept:
The various external facades align the full-height inner atria with all cardinal points and wind directions. Due to natural atmospheric pressure and temperature differences inside, a thermal effect constantly moves air through the atria achieving the required air change frequencies for the office rooms. The chimney effect brings fresh air from the cooler, north through the building, extracting it over the roof.
With the double façades eliminating security issues, partially opened sliding windows allow effective night cooling by ventilating cool air through the office spaces. Exposed concrete structure, ceilings, floor beams and columns in the office and winter gardens provide the thermal mass required to balance room temperatures between night and day.
A HOUSE WITHIN A HOUSE
The concept is a house in house. The inner façade is insulated with an appropriately cost-reduced specification because the external skin protects from wind, rain and heat loss. The outer skin's single glazing retains enough solar gain to keep the temperatures in the unheated volume of the atria above freezing point at any time, therefore reducing the associated energy costs.
The opening windows in the outer glass skin and all sun shading elements are controlled by a season specific digital control mechanisms. For all users the energy concept, in summer or winter, reduces the running costs which are considerably less as a conventional building.
The energy saving advantages are mirrored in the quality and usable space provided by the winter gardens, giving an all year round positive benefit for the user. From all offices the opportunity exists to open the sliding doors allowing natural ventilation, and in many cases to step out into the gardens from which the building offers a panorama view over the city and harbour.