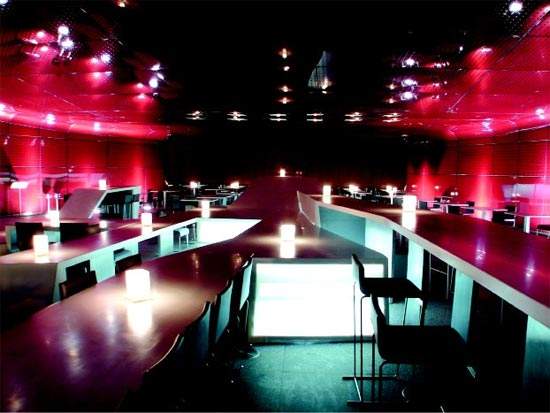 An affiliate of Hyatt Hotels has signed a management agreement with Fu Wah New Zealand to open first Park Hyatt-branded hotel in Auckland in 2017.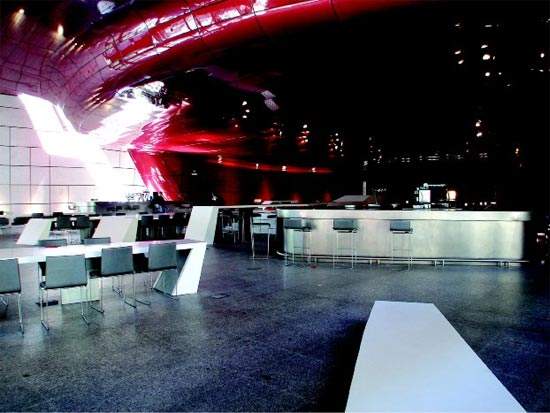 Pebblebrook Hotel Trust completed the $78.7m purchase of the Hotel Palomar Los Angeles – Westwood in Los Angeles, California, US.
The Arola's Madrid Restaurant at the new Reina Sofia Museum is a giant installation in glistering red zinc and concrete. The demands of one of the new (two Michelin starred) masters of the culinary universe – Sergi Arola – whose sincere, passionate and creative cuisine, were the inspiration for the whole concept.
The space, located on the ground floor of the museum borders a very busy street and the museum's courtyard, making the perfect meeting point and the excellence of entertainment.
In its short life (since September 2005), the Arola has become one of the hippest places to eat or drink in Madrid.
FUNCTIONAL BUT FASHIONABLE
The Arola's furniture is arranged like precious instruments but treated as a functional element. The idea was to create a perfect interior to complement a major urban work that would slip discreetly into a complex context and create a synergy with the existing elements. The proposal was inspired on the diversity of space, peacefully colonising the environment through a wide variety of volumes, materials, textures and colours, carefully selected to reach balance as a whole.
The result is a unique organic red interior, set off by mood lighting hidden in the tables and floors. The Arola is a hip and theatrical, yet cosy place to enjoy highly reputed cuisine.
The material used to produce the tables, Hi-Macs, was selected because of its durability, transparency and quality. The chairs are of light stainless steel structure with dark silver neoprene upholstery, combining metallic brightness with the fabric's warmth to give a feeling of cleanliness and modernity.
INTIMATE DESIGN
"The Arola's furniture is arranged like precious instruments but treated as a functional element."
The lighting had to fulfil the restaurateur's demanding requirements while maintaining the sense of intimacy. The solution consists of high-quality wireless rechargeable lamps that do not need to be plugged in.
The importance of the location demanded unobtrusive objects capable of communicating their own personality. The freshness and vivacity of the chairs and tables, made with care and attention to detail, met the demand for progressive and modern design. The whole design delivers precisely calibrated structures that speak for themselves.
The Arola restaurant is an 'absolutely modern' cool and stunning restaurant that uses cutting-edge technology with a low-key atmosphere where customers can feel at home dining with friends.