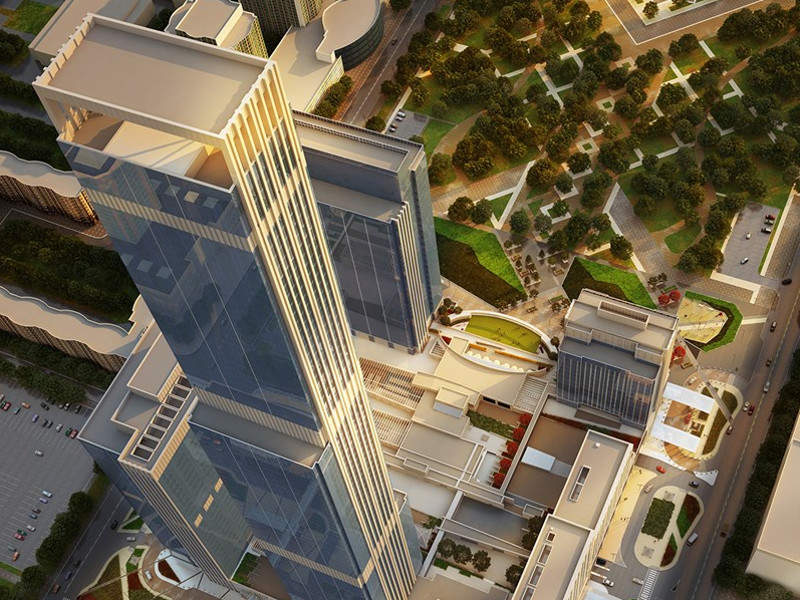 Abu Dhabi Plaza is an integrated mixed-use project under construction in Astana, Kazakhstan. Credit: HKR Architectural Services Ltd.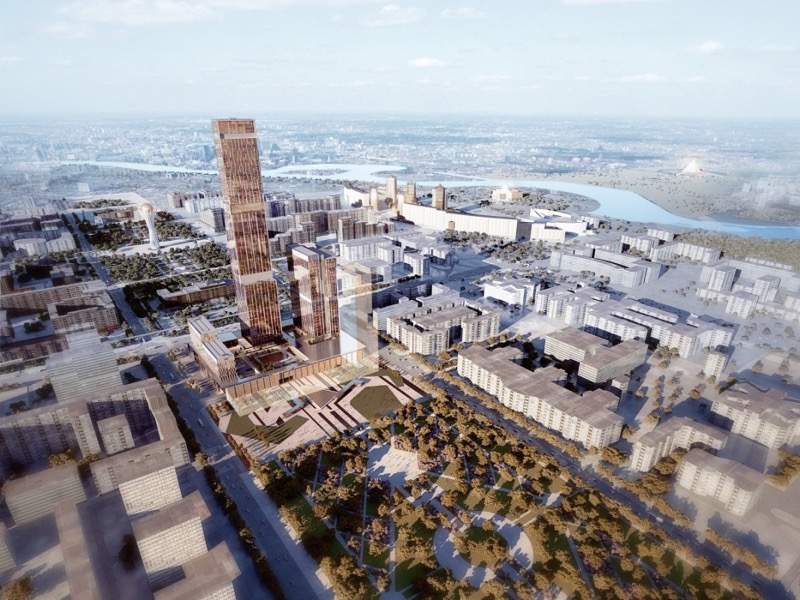 Abu Dhabi Government is funding the mixed-use project, which features residential, hotel, retail and commercial spaces. Credit: HKR Architectural Services Ltd.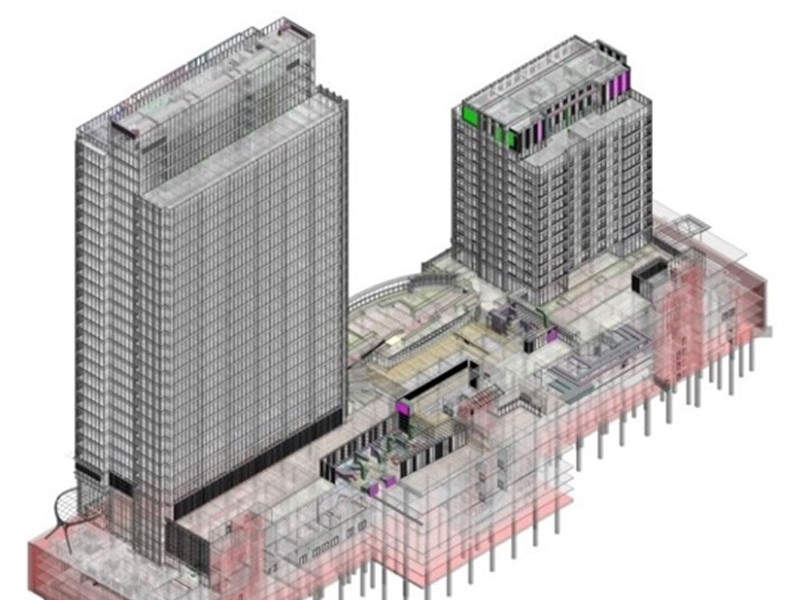 The Abu Dhabi Plaza was completed in December 2019. Credit: HKR Architectural Services Ltd.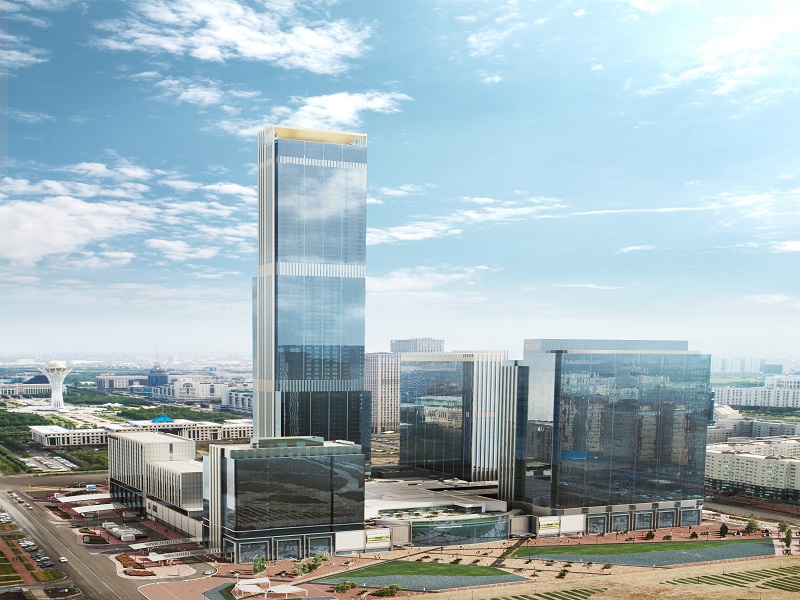 Abu Dhabi Plaza features five towers covering an area of 500,000m². Credit: Asya-Shery / Wikimedia.
Abu Dhabi Plaza located in the central business district in Astana, Kazakhstan, is the biggest tower block in Central Asia. The plaza includes residential apartments, office space of international standards, and leisure facilities.
The $1.6bn development project was developed in three phases and includes 568 luxury residential apartments, 107,490m² of commercial office space and 25,300m² of retail space.
Aldar Properties developed the mixed-use project, which was supported by the Abu Dhabi Government. The project was inaugurated in December 2019.
Abu Dhabi Plaza details
The Abu Dhabi Plaza in Astana features five towers located on a single stylobate with an area of 500,000m². It also includes a four-storey podium and a four-level basement.
The plaza has been categorised into seven towers or blocks, including Tower R, a residential-cum-office building and parking facilities; Tower Y, a 31-level business centre; Tower O, a 29-level business centre; Block Z, a 16-level residential building; Tower H, a 14-level 4 Star hotel with 190 bedrooms and 100 serviced apartments and a two-level shopping mall.
Phases one and two of the project comprised Towers Y, O, and H and Block Z Starwood Group operating the hotel tower under its Sheraton Brand.
Tower R is 310m-high and includes 75 storeys. It is the tallest building in the Commonwealth of Independent States region.
Abu Dhabi Plaza design details
The Abu Dhabi Plaza is organised into a matrix of blocks, wherein the taller blocks of varying heights rise out of the matrix and provide views of the other buildings. The arrangement helps in achieving thermal insulation during the colder winter months when temperatures are as low as -40°C.
Light shafts are strategically installed between the blocks and infused with colour using laminated glass panels, which creates a dynamic play of light, shadow and patterns. Panel and stick systems are used for the exterior facade cladding of the towers.
Few sections of the retail mall draw on the historic legacy of the traditional bazaars of Kazakhstan by recreating a bustling marketplace ambience. The plaza also includes a series of temperate year-round winter gardens and a network of sheltered pedestrian routes through the site.
Amenities at Abu Dhabi Plaza
The main residential-cum-office building comprises a common four-level basement for car parking, with space to park more than 4,000 vehicles. The basement also includes mechanical, electrical and plumbing (MEP) rooms.
Facilities at the podium include a health club, swimming pool, and a spa.
Sustainable features of Abu Dhabi Plaza
Abu Dhabi Plaza is designed to achieve energy reduction of between 14% and 20% through the installation of efficient HVAC systems, optimised façade systems, low-lighting power density fixtures, and enhanced commissioning.
Approximately 50% of the wood used for the project construction is Forest Stewardship Council (FSC) certified. The permanently installed material can be recycled to an extent between 10% and 20%.
Each individual component of the building has either received LEED V3 New Construction or the LEED V3 Core & Shell certification.
Contractors involved
The joint venture (JV) of construction companies Arabtec and Consolidated Contractors Company (CCC) was awarded the main AED4bn ($1.09bn) construction contract for the Abu Dhabi Plaza.
Arabtec Holding subsidiary Emirates Falcon Electromechanical Company was awarded an AED1bn ($272m) sub-contract by the JV for MEP works.
UK-based architecture firm Foster+Partners is the project designer, while architecture and urban design company HKR Architects was engaged as the project architect.
Robert Bird Group, a construction engineering consultancy, was engaged as the design and build engineer, while the JV of construction companies Aden Metal and Alumco was contracted for the facade works.
Mott MacDonald, a UK-based consultancy company, was appointed as the project manager, while AECOM, an infrastructure consulting company, is providing construction supervision consultancy services. ASSENT STEEL INDUSTRIES, a steel fabrication and erection company, was engaged for supply, fabrication and erection works.
RED, a specialist building services company, provided tender design validation, while design consultants fwdesign provided interior design, landscaping and lighting design services.
Pinnacle Infotech, a building information modelling (BIM) solutions company, provided concrete Bill of Quantities (BoQ) services for the hotel building, while WMG, staffing services company, provided staffing solutions.
WME Engineering Consultants, an engineering services company, provided building services and structural engineering services, while Kingston, a construction consultancy services company, was subcontracted by HKR Architects as a cost consultant.
Arabtech Jardaneh, an engineering and architecture company, provided mechanical and electrical engineering design services, while ZETAS, a foundation engineering specialist, provided diaphragm walls and pre-stressed anchors.
Elite Construction, a construction company, was subcontracted by Arabtec and CCC JV as general contractor and KPM Engineering, a consulting engineering firm, provided heating, ventilation and air conditioning (HVAC) design services.
Foreman Roberts, an MEP engineering services company, provided peer review and technical audit services.
Other parties involved in the project are construction consultancy firm Dalriada Construction Consultants, foodservice consultants Michael Chabowski Technical Services, pre-fabricated accommodation solutions provider Treysan, commissioning management services provider CML International, and energy solutions provider Prime Electrical Manufacturing.