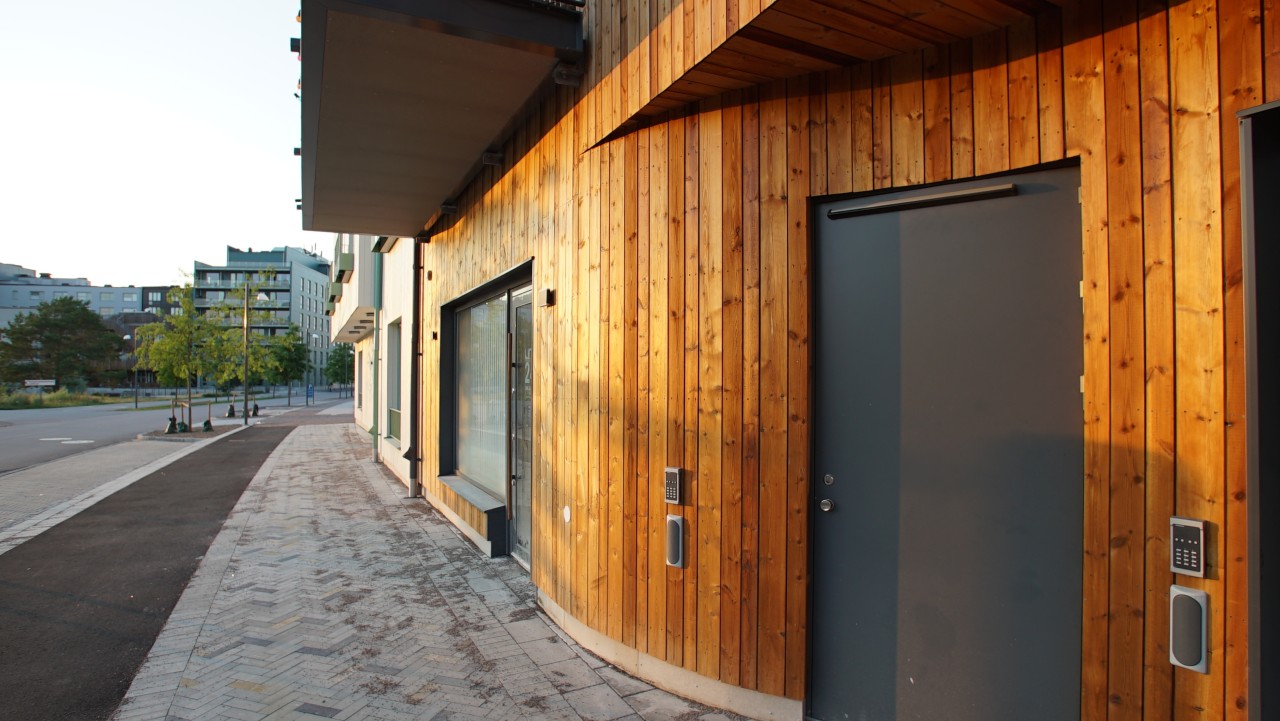 Flame retardant wood is about fire safety for you, your loved ones, economic values and security in our society.
Too many contractors and builders are convinced that they are building with flame retardant materials and are in accordance with the law because they bought a wood product that exhibits B-s1, d0 or SP-Fire 105.
Unfortunately, we must disappoint you if you have not checked the durability of this fire protection.
It is of no significance if the product is certified or classified for the current fire class if the impregnated wood panel or fire protection paint does not have certification for long lasting properties according to EN16755, -INT 1, -INT 2 and EXT. The latter EN 16755DRF EXT is a shall requirement determining if the product is approved for use in exterior environments or not, for example as facade cladding in multi-storey houses.
Keep in mind that it is your responsibility as a builder and/or developer to document this very important feature, which is rarely written in regulatory text, but which is of vital importance for long-term function. Swedish National Board of Housing, Building and Planning's BBR manages the property by emphasizing "financially reasonable life expectancy".
Flame retardant wood is definitely not about baseless empty promises, statements and praises. Nor about fire protection products with hygroscopic properties, nor about fast deliveries and low prices. An approval of EN16755 EXT must be issued by an accredited institute and notified body, eg. RISE, and can never be replaced with individual opinion approved properties based on theories that do not comply with the test standard EN16755.
A fire protection impregnated wood panel is meant to protect against fire in the long term, not short-term.
A fire protection impregnated wood panel with fire protection not certified according to EN 16755 is not a suitable product to use, and definitely not a flame retardant investment as fire protection deteriorates and leaks over time.
There is a growing and sneaky problem for resident tenants and for the property owner who are expected to renovate the building's façade, as fire protection will disappear and in the worst cases will not meet the current fire requirements stated in the Swedish National Board of Housing, Building and Planning's BBR.
At worst, insurance companies can question the choice of the product and greatly reduce compensation to the property owner in case of damage.
Woodsafe PRO™ and Woodsafe Exterior WFX™ are safe to use and are third party certified according to 1 and 8 chapter 22 and 23 §§ Plan, and the Building Act (SFS 2010: 900) and 4 § 2 and 3 PBL and the Swedish National Board of Housing, Building and Planning's building regulations (BBR) 2:2, 5:231, 5:551, points 2, 3 and 4, 6:21 which includes resistance requirements EN 16755DRF EXT for construction work in class Br1
Woodsafe PRO™ is listed as HR (Humidity resistance) and Woodsafe Exterior WFX™ is listed as LR (Leach resistance) on the WPA approval list for fire proof impregnated wood products. Woodsafe is the only manufacturer outside the UK certified according to the Wood Protection Association (WPA) as a WPA Benchmark Approved Treater.
Valuable advice to builders and above all to you as a developer:
Do not use wood panels as fire-treated without type-approval certificates for resistant characteristics.
This advice applies to both flame retardant impregnation and fire protection.
If, however, decisions are made that the product or performance of a firewall that has not been certified with durable properties is a lottery in terms of security, and a liability for major future maintenance costs, because you are well aware that products that have no durable properties need to be renewed and with short maintenance intervals.