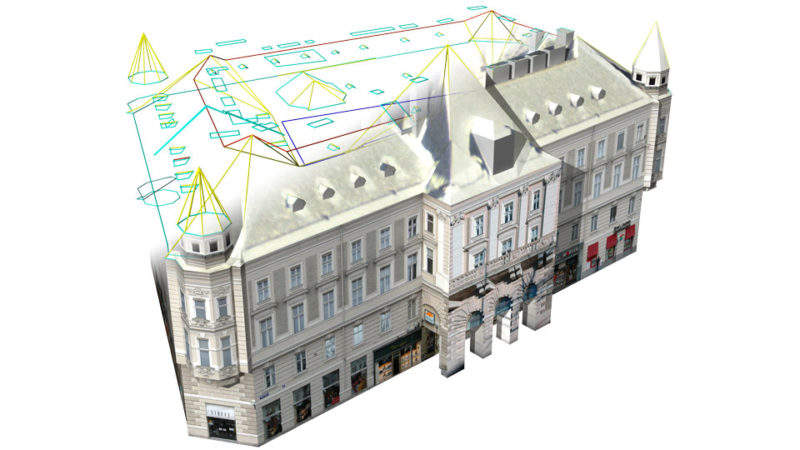 Our team has practical experience with all current methods of 3D data acquisition. Based on this, we can advise our customers which data collection methods are the most suitable and cost-effective for certain tasks.
We can add existing 3D data, e.g. aerial photography or laser scanning, and assess their suitability for the creation or refinement of the 3D city model. In addition, we can develop performance profiles for the new 3D data, for example photogrammetry, laser scanning or mobile mapping, from the desired 3D modelling.
In addition, we advise our customers about the best procedures for generating building and terrain models depending upon their needs. Our expertise ranges from automatic procedures for creating simple models to interactive procedures for accurate and detailed building modeling.
Data management
The CityGML standard has established itself for 3D city modelling with the aim of ensuring the most efficient exchange of 3D data, as well as optimal use for a wide range of applications. The concept of different levels of detail (LOD), from simple (LOD 1) to very detailed (LOD 4) building models, allows the city model to be gradually refined over time with the increasing requirements. The CityGML standard is, however, more than just a geometry format, special emphasis is placed on correct building semantics which is an essential prerequisite for linking to existing thematic data, which significantly increases the value of the city model.
Based on our well-founded CityGML expertise, we advise our customers how to make their city model standard-compliant, refined and kept up-to-date.
Support for tendering
With our experience in 3D data collection and city modelling, we can also support our customers in tendering. The basic objectives and requirements for the 3D city model form the basis of our consulting. Out of this, we are able to create service profiles for the bidding of image and LiDAR flights, mobile mapping campaigns and 3D building modeling for our customers.
In addition, we develop quality criteria for the acceptance of the contracted services, eg:
Testing the delivered images for correct positioning and georeferencing
Analysis and assessment of the image quality, especially also with regard to the suitability for automatic processes
Analysis of laser scanning data with regard to classification and modeling
Examination of the delivered building models for completeness and accuracy
Validation check of CityGML models
On request, we can also carry out the examination of the delivered data as a service.