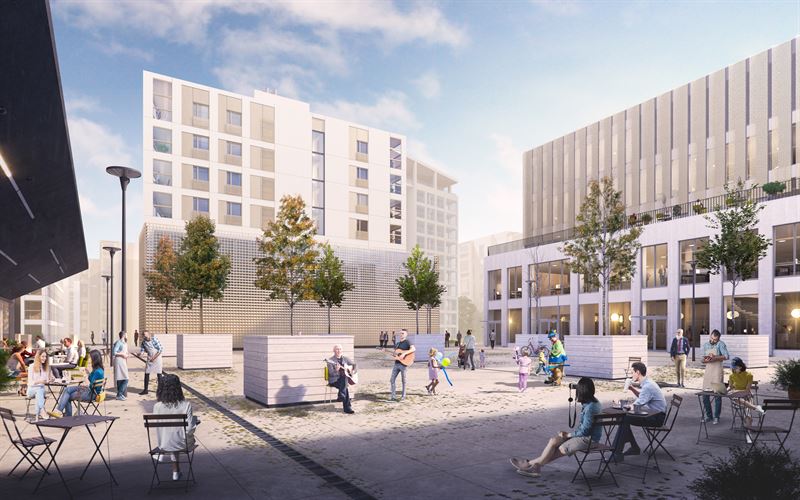 YIT has begun construction of five-storey office building and a car park to cater to housing units of Tuultenristi in Tapiolam, Finland.
Tuultenristi will a feature a 4,200m2 of office space, while offering views of Merituulentori and over Tuuliniitty to Hakalehto.
The first anchor tenants of the office project are Helsingin Seudun Osuuspankki and the Martha Organization for Uusimaa.
The immediate vicinity offer services of Shopping Centre Ainoa and the cultural events of the centre of Tapiola.
Construction work is being undertaken in phases. It will be finished in spring 2023.
The work commenced with the installation of protective structures.
As the Tuultenristi site is located at a busy traffic hub, it requires careful planning with regard to safety and mobility, stated YIT.
YIT construction manager Tero Seppänen said: "Nearly 900 buses, hundreds of cars and thousands of people travel around and under the construction site every day, which is why we must focus on safety and the smoothness of traffic and logistics. We are trying to minimise the damage caused by our construction site with careful forward planning and good communications."
To cut down CO2 emissions and verify the carbon footprint, the CO2 emissions of Tuultenristi are being calculated at the commencement of the construction phase and tracked throughout the construction process.
The building has been designed in line with YIT's Smart Building concept, which focuses on optimising energy use.
For the office building project, YIT will apply for the LEED environmental certification.
YIT project development manager Anne Suojoki said: "The Tuultenristi office building is located in a prime spot that catches the attention of people approaching Tapiola from the west. The building adds modern zest to central Tapiola, making the popular neighbourhood even more attractive and comfortable."
The Tuultenristi project also features the adjacent residential buildings, two of which have 12 floors and one with nine floors, besides nearby plots at Itätuulenkuja 6 and 8.
The new buildings in total will have over 700 new residents in the centre of Tapiola.
Construction of the first residential project, Asunto Oy Espoon Itätuuli, began last year.
——————————————————————————————————-
Image: Tuultenristi will a feature a 4,200m2 of office space. Credit: YIT via Cision.