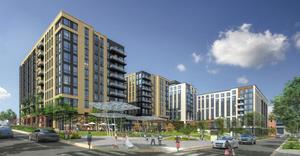 US-based construction firm Toll Brothers, through its newly formed joint venture, has secured $160m construction financing for new multifamily development in Washington, DC.
The joint venture is formed between Toll Brothers Apartment Living rental subsidiary and GSLM Capital Partners, which is a venture of L+M Development Partners and Goldman Sachs Urban Investment Group.
The financing will be used to develop the first phase of a 6.7-acre parcel of land in the site in Washington, DC.
The first phase will include 561 units, of which about 20% of them will be affordable. It will also feature one-acre of public open space and nearly 50,000ft2 of residential amenities.
The $160 construction loan is being provided by Citi Community Capital along with tax-exempt notes of $23m issued through the Washington, D.C. Housing Finance Agency (DCHFA) and another $137m taxable construction loan.
Citi arranged a $160m forward commitment for permanent financing from Freddie Mac in its role as an Optigo lender.
Goldman Sachs in the project will be working for the land loan financing and equity participation. It will be the purchaser of approximately $15.7m of low-income tax credits generated as-of-right.
The development, management, and marketing of the project will be overseen by Toll Brothers Apartment Living and L+M.
The property was acquired from Sursum Corda Cooperative in 2018 and is bounded by First Place, M, First and L Streets, NW. Members of Sursum Corda Cooperative as part of the agreement will have the right to return to up to 127 units in the development. 
The first phase of the project won unanimous approval from the Zoning Commission last year. The project will be built on the southern portion of the site. 
The tax-exempt bond and low-income credits support 118 units in the first phase. It will be restricted at various incomes at or below 80% of Area Median Income.
The development will have 1,100 apartments, of which 199 will be affordable when fully completed.
Two buildings in the first phase will have a mix of studio, one-, two-, three-, and four-bedroom floor plans. The southwest building of the first phase will feature 216 apartments. The facility will include health and wellness-centred amenities for the community.
The amenities will include a cardio and weightlifting gym, yoga and cycling rooms, an outdoor yoga deck, locker rooms, and a pet spa. The facility will also have a children's playroom, a co-working lounge.
On the second floor, there will be a pool with cabanas and seating overlooking the community park.
The southeast building will have 345 apartments and feature community-driven amenities, including a coffee bar, a large co-working space, maker space and game room.
The facility will also have a full-service kitchen and dining room along with a greenhouse. The greenhouse will be equipped with gardening stations and indoor greenery, and a rooftop deck with indoor-outdoor space.
Construction on the first phase has already started and it will be ready to welcome its first residents in 2022.
————————————————————————————————————————–
Community Rendering, Washington, DC. (Credit: Toll Brothers, Inc./GlobeNewswire, Inc.)