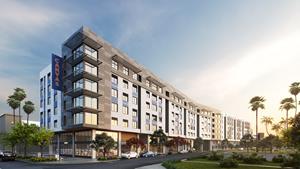 US-based builder of luxury homes Toll Brothers, through its Toll Brothers Campus Living rental division, and investment management firm Harrison Street have formed a joint venture to develop Canvas, a 263-unit, 826-bed luxury student housing community in Arizona.
The student housing community project will be located adjacent to Arizona State University (ASU) in Tempe.
The JV has partnered with real estate development company Subtext for the project.
Toll Brothers Campus Living will be responsible for the development, perform asset management, construction and marketing.
Cardinal Group Management will serve as the leasing and property manager.
Construction loan for the project has been secured by the JV from MidFirst Bank, Fifth Third Bank, National Association, and Trustmark Bank.
Toll Brothers' in-house finance department arranged debt and equity financing, while TSB Capital Advisors acted as advisor to Toll Brothers.
The students housing community will be spread across a 3.37acre land. It will feature a six-level parking garage with space for 469 vehicles.
It will offer a fitness centre and a clubroom along with an Esports lounge, a rooftop pool and amenity deck, business centre, cafe, ground floor retail, and a courtyard and fire pit, grilling stations.
This project will also have electronic parcel lockers, private study rooms and bike storage.
The other amenities to be provided include a furniture package, quartz countertops, private bedroom door locks, walk-in closets, computer-controlled access, smart television, central air conditioning, private bedrooms and bathrooms, etc.
Toll Brothers Apartment Living president Charles Elliott said: "We are excited to grow our Toll Brothers Campus Living footprint into the dynamic southwest market near one of the largest universities in the U.S. As a student housing community, Canvas will bring together the same quality and service that we are known for across our multifamily portfolio."
Canvas is currently under pre-leasing and will be ready to welcome its first residents in fall this year.
———————————————————————————————————————————-
Canvas will be a 263-unit, 826-bed luxury student housing community in Arizona. (Credit: Toll Brothers)