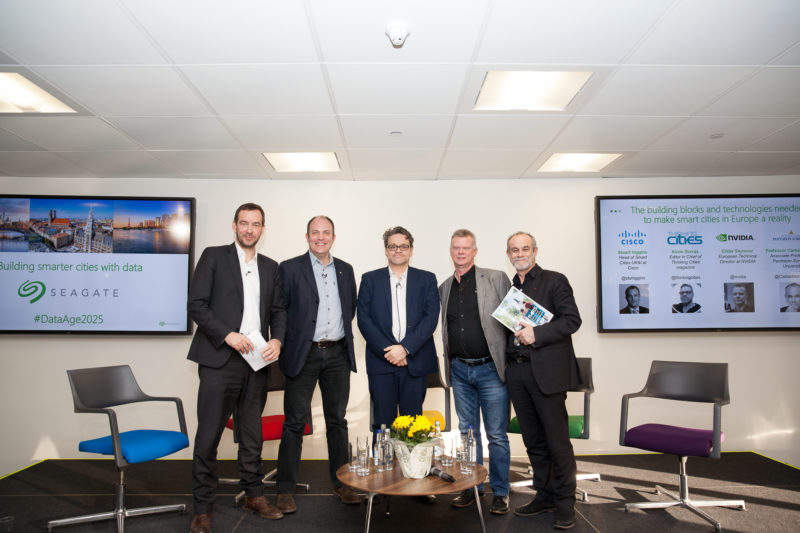 Greater cooperation, connectivity and finance are the key components for making a successful smart city, according to the panel at the recent Powering Smart Cities event—but having a 'forward-thinking champion' is vital.
The event, hosted by Seagate at Canary Wharf, London, saw industry experts discuss the challenges to making smart cities in Europe a reality.
With the International Data Company (IDC) forecasting that the global datasphere will grow to 163 zettabytes (a trillion gigabytes) by 2025—ten times the 16.1ZB of data generated in 2016—there are growing calls for an organised approach to how all that data is used to better life for citizens.
The panel discussed the wide-ranging possibilities for all that data in a smart city: from fighting crime using AI, to smart parking, to the 'working man's smart city'—in which a pint awaits in you in the pub and a driverless car takes you home, all at the whim of an app.
But for these applications to become a reality, greater cooperation and sharing of data is required.
"In an ideal world you'd share all data, but the reality is data is a real opportunity for monetisation for both public and private organisations," said Stuart Higgins, head of Smart Cities UK&I at Cisco.
More cooperation is needed between local authorities, such as between London's often fragmented 32 boroughs, and the private sector should give back in certain situations.
"If it's publicly-owned data, then the public purse should benefit from that as well," said Higgins.
Improved connectivity is also essential. Kevin Borras, editor in chief of Thinking Cities magazine said that '5G is entirely necessary for a smart city to function in that Utopian ideal of a smart city.' However, he stressed that 5G is just one form of connectivity, and cautioned that it may not come to certain cities at all.
One such alternative form of connectivity is 'hyper-proximity', a new concept proposed by Carlos Moreno, Professor at Pantheon-Sorbonne University and advisor to the Mayor of Paris. The aim is to use technology to improve connectivity in a city for 'access to all kinds of services—housing, working, leisure, health, education—within 15 minutes'.
All smart cities require funding, as can be seen in the Middle East, where vast amounts of money are pumped into new cities like Dubai so that they can build from the 'bottom—or internet—up'. But in Europe, many cities are already well-established and authorities can be reluctant to invest in such a long term project, especially when they are unlikely to still be in power when it comes to fruition.
However, Eddie Seymour, European technical director at NVIDIA, said there is a growing trend for authorities to adapt a commercial model to smart cities so that they are less reliant on private funding.
"In the case of Milton Keynes, we came into it building some hardware and software and tried to sell it that way," he said.
"But actually their end goal ended up being the data [with] analytics data not only useful for that local authority, so that they can solve some problems and save some money—that's how they can show it—but also sell that in some respect in a commercial way, to a commercial outlet, to then get more revenue back."
The panel agreed that to bring all of these components together required progressive, forward-thinking leadership.
"You need a champion, whether it's an Elon Musk kind of person, the Mayor of Barcelona or Manchester's Andy Burnham," said Borras.
"It's places like Manchester where they've got really good, forward thinking leadership, that's joined up, and places that have got a digital strategy, for the whole place—not just for a smart city," agreed Higgins.