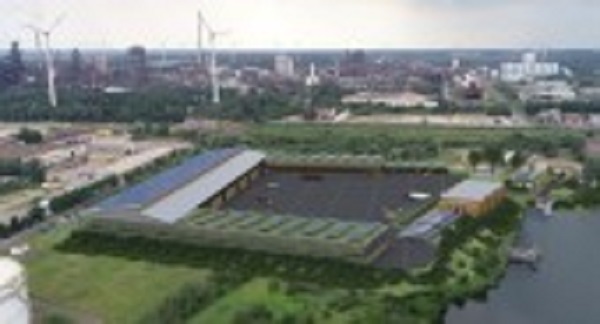 Strabag has broken ground on Circular Construction & Technology Center (C3) at an earlier oil port in Bremen, Germany.
This flagship, pilot project is a part of the company's sustainability strategy.
The centre for urban mining and construction waste processing will serve as the base for 'low-carbon construction of the future', according to STRABAG.
It will employ 130 people from several StraBAG Group entities.
Strabag Environmental Technology, over the next two years, will first sustainably clean up the site that earlier used to house a refinery tank farm, which was polluted with mineral oil.
Construction of the buildings and the development of plant technology will commence in 2024. Meanwhile, the facility to recycle the construction waste is also slated to become operational in the same year.
The redevelopment of the 13ha site will see encapsulation of the current soil stockpiles at the site.
The contaminated sites will be surveyed and any recyclable building materials that can be used later as a base layer will be identified for the construction of the site.
Strabag Environmental Technology managing director Dirk Brozio said: "It is our aspiration as the Strabag Group to play a leading role in driving forward the development of sustainable and resource-saving construction processes and products.
"The extraction of valuable secondary raw materials is an important building block for our goal of becoming climate neutral across our entire value chain by 2040. We are pleased to be able to develop Strabag Environmental Technology's first recycling centre here in Bremen and to be able to contribute the full range of our expertise – initially in remediation and later in the recycling of building materials."
The site will be cleared of explosive ordnance, and measurements will be taken to understand the concentration levels of dangerous compounds in the soil.
Only waste that must be removed to protect the environment and groundwater will be disposed.
Strabag Circular Construction & Technology Center will be developed using sustainable methods of construction and climate-friendly building materials such as wood and recycled concrete.
Power for the centre will come from photovoltaics, while heat will be produced from a heat pump in combination with ground-level geothermal energy.
It will feature rainwater collection system, green roofs with retention chambers for water storage and moss walls to decrease noise.
Once built, the centre will focus on sorting the debris materials and then recycle them as secondary raw materials down to the smallest particle sizes, which can be used substitutes for primary raw materials such as in asphalt and concrete production.
This C3 project will serve as the company's first competence centre for sustainable circularity.
Strabag plans to establish and operate further circular construction centres at other locations in Europe in the future.
—————————————————————————————————————–
Image: Construction of the buildings and the development of plant technology will commence in 2024. Credit: Strabag