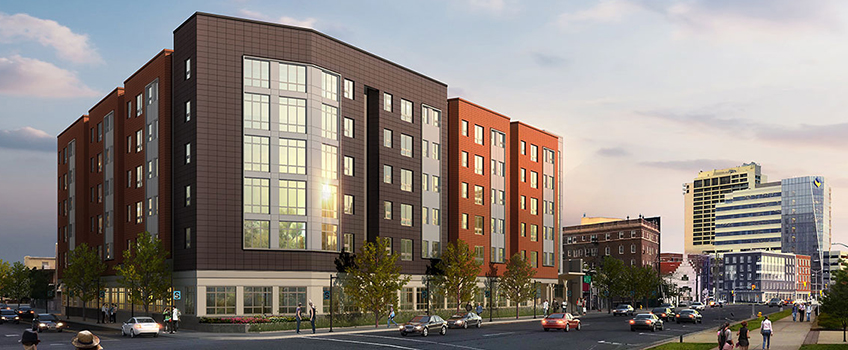 Stockton University and the Atlantic City Development have unveiled plans to construct a new student Residence Hall at Stockton University Atlantic City, US.
The 140,000ft² building, which forms part of the Phase II construction, will be located in the University District at the site of the Eldredge Building at Atlantic and South Providence avenues, across from O'Donnell Memorial Park and near the Atlantic City campus.
The 416-bed residence hall will feature apartment-style living and will comprise a lounge, meeting room and laundry facilities along with parking spaces in the existing parking garage.
The new facility will be built by AC Devco along with Stockton University in a public/private partnership.
AC Devco has developed the first Gateway initiative that includes the Stockton Atlantic City campus, South Jersey Gas headquarters and AtlantiCare Urgent Care.
Stockton University Atlantic City, which was opened in fall 2018, features an academic building, a 543-bed residential complex along with parking garage.
It comprises a three-storey, 56,000ft² John F. Scarpa Academic Center that features 14 classrooms and computer labs; faculty and administrative offices, a 3,000ft² event room and a café area along with outdoor seating.
AC Devco president Christopher Paladino said: "Stockton University and its partners set the stage for a new economic development strategy with the Gateway initiative.
"Today thousands of students, staff, visitors, and employees of Stockton, South Jersey Gas and AtlantiCare have changed the tempo of the streets of Chelsea. This Phase II investment will further add to the vibrancy of the neighbourhood."
Stockton president Harvey Kesselman said: "The new residence hall will allow even more students to live, learn and earn in Atlantic City through academic, internship and employment opportunities."
Construction on the new residence hall is expected to begin in the fall and is projected to be completed in fall 2022.
—————————————————————————————————————————————————–
Image: Rendering of the new student Residence Hall at Stockton University Atlantic City. (Credit: Stockton University.)