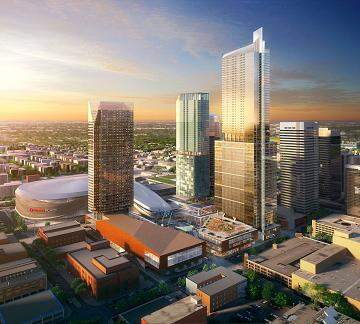 Stantec has been selected to design and offer engineering services to convert a portion of the McCormick Place Convention Center in Chicago, Illinois into a temporary hospital for treating novel coronavirus (COVID-19) patients.
The contract has been awarded by the Metropolitan Pier and Exposition Authority (MPEA) and the United States Army Corps of Engineers (USACE).
The temporary alternate care facility will have the capacity to treat up to 3,000 low-to-moderate acuity patients across three of the convention centre's halls. The patients will be placed separately by level of care needed.
Walsh Construction has been selected as the contractor for the project. The temporary facility is expected to be operational by 24 April and the construction of the first 500 beds was completed earlier this month.
The convention centre will be converted into a facility that will focus on patient care, infection control, fire protection and life safety. The facility has been designed to relieve the pressure on the hospital system by freeing up beds for more patients with severe COVI-19 symptoms, in anticipation of the increase in positive diagnoses to come.
Stantec healthcare principal Douglas King said: "We need to quickly and efficiently leverage our existing spaces and infrastructure, to allow our healthcare professionals to focus on providing care in this time of crisis.
"Our team at Stantec is proud to support this mission in our local Chicago community, and we hope it will serve as a model across the country."
Stantec is also supporting rapid response solutions by healthcare organisations during the COVID-19 crisis.
Earlier this month, Stantec was selected by Metrolinx and Infrastructure Ontario to offer technical advisory services for the Hurontario Light Rail Transit (LRT) project to connect the cities of Mississauga and Brampton, outside of Toronto, Canada.
The Hurontario LRT will be a 28km service from the Port Credit GO regional rail station near Lake Ontario to the Brampton Gateway Terminal and will include 19 stops along the way. The project includes operations, maintenance and storage facility located at Highway 407.
For the project, Stantec will provide design, construction, and commissioning oversight services and design review services have already commenced.
——————————————————————————————————————————————————-
McCormick Place Convention Center being converted into a temporary facility for treating COVID-19 patients. (Credit: Stantec)