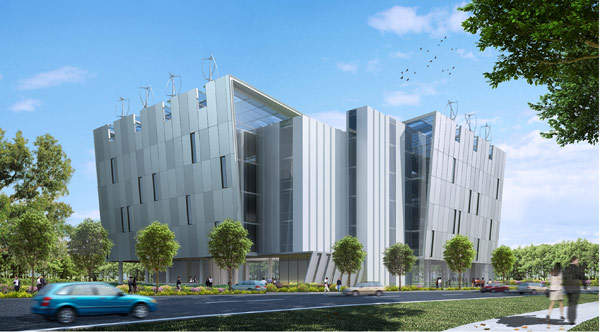 Skidmore, Owings & Merrill (SOM), a Chicago-based architecture firm, has completed the Tianjin Finance Centre, a 530m glass skyscraper, located in Tianjin, China.
Located in Tianjin Economic-Technological Development Area, the new skyscraper is claimed to be the seventh tallest building in the world. The glass façades for the building were supplied by CSG, a Chinese architectural glass manufacturer.
Owned by Tianjin New World Huan Bo Hai Real Estate Development, the building's construction began in 2013.
The building occupies an area of more than 2.7 million ft², with 97 floors. The building has 266 apartments and 365 hotel rooms.
Claimed to be of a fluid lyrical shape, the unconventional and rounded shape of the building needed an elaborate glass curtain strategy and adding to this was the client's requirement to use flat glass, increased the complexity.
The challenge was completed by using staggered glass panels with make-up aluminium pieces added to the mullion system and metal frames.
CSG was selected to supply all the flat glass panes for the building. Nearly 476 unique glass panels were supplied by the company, which were processed using Glaston's technology.
SOM consulting design partner Brian Lee said: "Part of our success with this particular building was its focus on an efficient, sustainable design concept for the exterior.
"We utilised a high-performing, double-glazed unit with low-E coating and incorporated an insulated panel between each glass, thereby reducing the percentage of vision glass, cutting heating and air-conditioning costs.
"Glass is always going to be very much in high demand for any kind of building, because people want to have that engagement – the incredible views and a sense of daylighting – which is very beneficial for well-being. Especially if you are able to mitigate the glare and heat loss or gain, depending on the climate, you can save on energy costs."
——————————————————————————————————————————————————-
Landscape image of Tianjin CTF Finance Centre (Credit: Seth Powers)