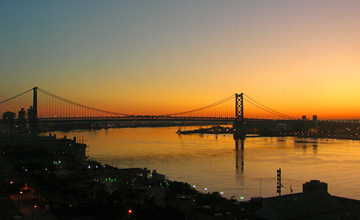 Swedish construction and development company Skanska has been awarded a contract, worth approximately $195m, by the Delaware River Port Authority to rehabilitate the Benjamin Franklin Bridge that connects Philadelphia, Pennsylvania and Camden, New Jersey, US.
Under the contract, Skanska will be responsible for the rehabilitation of a suspension bridge about over 1,100m from anchorage to anchorage, carrying seven traffic lanes and two rail lines.
The scope of work includes the installation of a main cable dehumidification system and elastomeric wrapping, painting, walkway widening, miscellaneous steel repairs, rehabilitation of the anchorages, and decorative lighting.
Construction is currently underway on the rehabilitation project and is planned to be completed in December 2024.
Separately, the company has signed contracts with to make improvements to the existing undisclosed clients' corporate office in the western US.
The additional incremental contracts, worth $492m, have been signed with a joint venture of Skanska Balfour Beatty. Construction work, which is underway, is scheduled for completion in April 2021.
Earlier this year, Skanska has secured a £240m contract to deliver 20 Ropemaker Street, a commercial development in Central London.
The 25-storey project will consist of 419,093ft² of office space and 11,785ft² of retail space at ground level.
As part of the contract, Skanska will be responsible for providing mechanical, electrical and plumbing engineering services at the project.
The project will also include double-height entrance and a lobby along Ropemaker Street close to Moorgate Tube Station and a separate entrance dedicated for bicycles.
The project also includes three basement levels for retail servicing, plant, facilities management, cycle and shower facilities.
———————————————————————————————————————
The Benjamin Franklin Bridge connects Philadelphia, Pennsylvania and Camden, New Jersey. (Credit: Rrenner/Wikipedia)