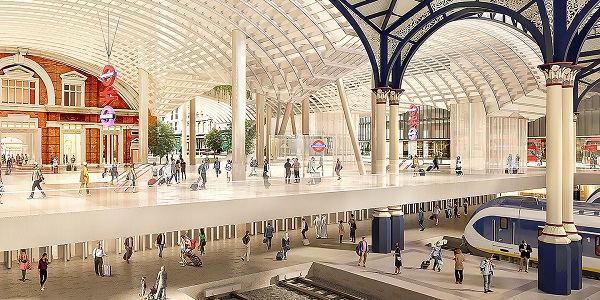 Shard builder Sellar, Elizabeth Line operator MTR, and Network Rail have revealed their plans for major upgrades to Liverpool Street station in the UK.
The £1.5bn plan includes a £450m upgrade to reduce overcrowding, capacity and access issues to transform the passenger experience for millions of station users.
The vision for the station is being developed with architectural firm Herzog & de Meuron.
The masterplan envisages creating a transport hub while also delivering new retail and leisure centre for visitors, passengers, and the local community.
Liverpool Street station was fully opened in 1875, and had undergone a major upgrade in the late 1980s. However, traffic regularly grows more than the station's operating capacity.
The £450m programme features plans to provide step-free access across the station and to all London Underground platforms. This will be done by raising the count of lifts from one to seven, including six additional escalators to take the total to 10 and enhancing the London Underground station concourse and entrance.
The historic aspects and façade of the neighbouring Grade II listed Andaz hotel, which originally opened in 1884, would be restored.
The station building would be sustainably adapted to link it to the concourse and create a new public space. This will also enable its historic rooms, including the masonic temples and ballroom, to be more accessible to the public, offering meeting, leisure and exhibition space.
The plan for a new 16-storey mixed-use commercial development above the concourse consists of up to ten floors of office space below a newly built Andaz hotel, which would be operated by Hyatt.
Consultation will commence with important groups over the weeks to come, ahead of an anticipated planning application submission next year.
Sellar CEO James Sellar said: "With additional wellness focused workspaces, retail and leisure, as well as enhanced public realm – all reflecting the changes to people's lifestyles which have accelerated as a result of COVID, Liverpool Street will be transformed into a destination in its own right. London is at a pivotal moment post Brexit and post pandemic and we need to show a willingness to commit to infrastructure improvements.
"We believe that the proposed station upgrade will also help ensure that the City remains competitive and maintains its position as one of the world's most innovative, inclusive and sustainable business ecosystems and as a highly attractive place to invest, work, live, learn and visit."
—————————————————————————————————————–
Image: Masterplan unveiled to transform Liverpool Street station in London. Credit: Sellar Design and Development Ltd.