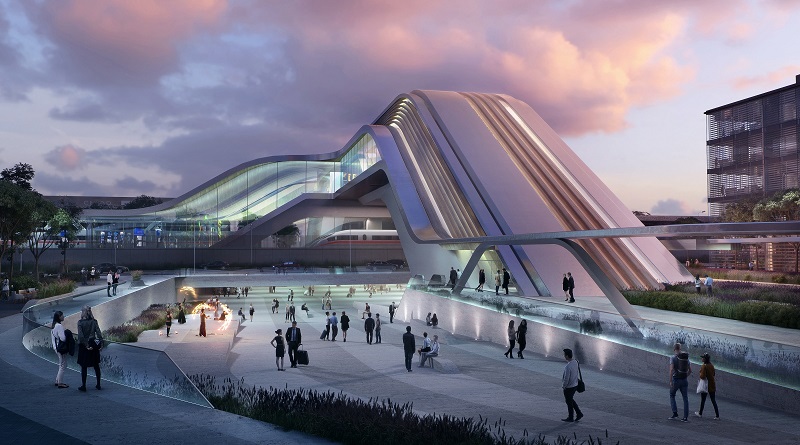 Rail Baltic Estonia has announced the first stage of construction procurement for the Ülemiste terminal building.
It has sought for a builder for the load bearing structures at the Ülemiste joint terminal.
The estimated cost of the tender is €66.5m.
This tender is intended for construction of underground level and other related railway facilities.
The construction of the structures will take place only following the demolition of the current railway and must be finished prior to the construction of new railways. This work would require close cooperation with the infrastructure contractor and the terminal construction contractor.
Rail Baltic Estonia head of operations Marko Kivila said: "We are procuring the construction of the Ülemiste joint terminal in stages, and now that the procurement for the reconstruction of the railway infrastructure has ended, we can move forward with the next stage, which is the construction procurement for the concrete structures under the railway. In essence, we are procuring the underground part of the terminal building."
Kivila added that the construction works will not impact train traffic.
He added: "Passengers can use the existing waiting platforms until the spring of 2025. In the spring of 2025, train traffic will start at the new location and passengers will be able to use the new waiting platform."
Three bids were submitted by the deadline for the tender on undertaking reconstruction works of the railway infrastructure associated with the joint terminal that was announced in September and ended recently.
The intention of the construction works is to rebuild the existing Ülemiste railway infrastructure to accommodate the Rail Baltic 1,435 mm gauge railway to be built in the future.
Towards this end, 16.3km of existing tracks need to be demolished, and over 8km of new 1,520 mm gauge railways need to be built.
Besides the railway works, the scope of the construction procurement also features reconstruction of utility networks crossing the railway and the Kantsi viaduct.
Construction permits for undertaking works have already been issued.
Most of the railway works is required to be completed during 2024. However, the contractual works will continue until 2026.
The plan of Rail Baltic Estonia is to conclude the contract with the best bidder this year to commence the works next year.
The design work for the Ülemiste railway infrastructure was undertaken by OU Reaalprojekt and OU Allspark.
Zaha Hadid Architects and Esplan OU served as the author and designer of the architectural solution of the Ülemiste terminal.
The deadline to submit the bids for the procurement of construction works for railway facilities at the Ülemiste passenger terminal is 5 January 2023.
Following the procurement process, construction is expected to commence in spring next year.
The construction work is expected to last until the third quarter of 2026, following which the construction of the architectural part of the terminal building will commence.
————————————————————————————————————
Image: Rendering of Ülemiste passenger terminal. Credit: Rail Baltic Estonia/RB Rail AS.