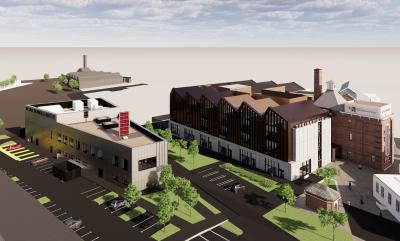 The City of Wolverhampton Council has granted planning approval for the construction of a new £17.5m National Brownfield Institute (NBI) in Wolverhampton, UK.
The NBI will be constructed on the University of Wolverhampton's £120m Springfield Campus. It will focus on practical application of future brownfield regeneration through work of research teams, leading policy development and commercial services.
The 12-acre Springfield Campus already includes the Thomas Telford University Technical College, Elite Centre for Manufacturing Skills as well as the recently opened School of Architecture and Built Environment.
The new scheme combined with these facilities will lay the foundation for the delivery of a National Centre for Sustainable Construction and Circular Economy. It will focus on sustainability and the climate change emergency.
The NBI will provide the facility to develop modern methods of building through innovation and partnership with the construction industry.
It will receive £14.9m financing from the Government's Get Building Fund for the West Midlands.
In addition, a request for the remaining amount for the scheme forms part of the city's bid to the Government's Towns Fund.
Construction work on the institute is scheduled to commence next year.
The University vice-chancellor Professor Geoff Layer said: "Our Estates and Facilities team has worked closely with Architectural, Civil, Mechanical and Electrical consultants including Associated Architects, CPW and Atkins alongside the construction contractor, ISG Limited, to deliver this approval.
"The NBI will be integral to the way we look at land remediation and regeneration across the Black Country and the UK and will play a pivotal part in unlocking industrial land to help tackle the housing shortage in our towns and cities."
West Midlands mayor and WMCA chair Andy Street said: "The Institute wills also equip our residents with the modern construction skills they will need to work on these brownfield projects, helping to get people into high skilled, well paid, work as we look to bounce back from the economic impact of the pandemic."
————————————————————————————————————————–
New computer-generated images of the National Brownfield Institute at University of Wolverhampton's Springfield Campus. (Credit: City of Wolverhampton Council.)